Building a Salesforce Career on the Road to Singapore

Patricia Orr, Chief Customer Technology Advisor, grew up in Roseville, California, right outside Sacramento. She attended the University of Cal Poly San Luis Obispo and studied kinesiology with the idea of becoming a physical therapist. But obviously, she took a different path — one that ended up at Salesforce Singapore as a Chief Customer Technology Advisor!
You went to university to become a physical therapist. What happened after you graduated?
I wasn't ready to go back to school for physical therapy, so I moved to San Francisco and started job hunting, without knowing what I wanted to do.
This was during the dot com boom, and new types of companies and industries were popping up all over. My first job was with a recruiting firm in sales. My thought process was, since I don't know what I want to do, I'll make my job talking to companies about jobs and who they're hiring and then, maybe, I'll figure it out.
It did. I did that for a few years and also volunteered as an ambassador for the San Francisco Chamber of Commerce, working with a lot of companies. That led to a job at a new startup. It was an online job site.
Then I went to an e-learning financial services training company based in San Francisco. I was in sales. My territory was the East coast where I traveled to New York and Boston. I worked with the big financial services companies like Merrill Lynch, convincing them to do e-learning and online training versus the traditional approach. That was quite exciting. The company moved me to New York City to expand the organization.
How did your career with Salesforce begin?
I joined Salesforce eleven and a half years ago.  I was also a customer for almost six years before starting to work at Salesforce.  When I was in sales, I used Salesforce as a basic CRM tool. Then in the next company as a Sales Director, I brought Salesforce in to the organization and guided that implementation.
In a third organization, I was a sales operation director where I owned the Salesforce program. I took Salesforce beyond what we used for sales and extended it to service, the legal department, other operations, and the production floor.
It was a big shift from sales and a great learning experience. In fact, I took a pay cut to drive my career in a new direction. But I really enjoyed it. So, I decided to do it for a while and see where it took me, which was eventually a career at Salesforce.
Then 11 and a half years ago while I was based in New York City, I applied for a job at Salesforce as a customer success manager, where I could work with other companies to help them maximize their investment in Salesforce.
You've worked in three offices since you joined Salesforce. How did you end up in Singapore?
I started in our New York City office, working as a customer success manager. My family lived in Washington, D.C.; I was ready for a change and wanted to move closer to family. My accounts were on the East Coast, and I was allowed to relocate to D.C.
I also wanted to take on a new role, so I looked into solution engineering. I shadowed solution engineers, enhanced my technical aptitude, and got a job in with that group.
Throughout my career at Salesforce, I worked with a lot of international accounts, and I wanted to increase the depth and breadth of my knowledge of international business. Singapore is an amazing country, which is English speaking. It was hard to find a role there, but I convinced the head of our marketing cloud Solution Engineering group to give me a shot.
I had some great executive sponsors and mentors helping me. Peter Doolan was leading Solution Engineering. I worked closely with him on some strategic accounts, and he vouched for my value to the organization. I reached out to people I knew who had transitioned into the marketing cloud parts of the business and they helped as well.
Do you like living in Singapore?
Singapore is a great country to live in. Amazing culture. Very open to people coming from all cultures. Very friendly. In the office, we have people from many different countries and ethnicities. Singapore is my hub into Asia. I travel to countries throughout the month supporting Salesforce and learning about the business and culture in each country.
You're currently a Chief Customer Technology Advisor. What is that?
I work with our strategic customers and prospects in helping them understand how Salesforce can support their business strategy to meet business goals. I focus on their digital transformation journeys. I help build a vision of the future, outline the enterprise architecture and deliver a roadmap of quick wins and long-term use of our technology.
It's very rewarding to help companies transform and improve their business. And I love the opportunity to learn about different businesses in different countries. Nevertheless, the travel can be exhausting because the demand for what we do is quite high. Sometimes, I let myself get over extended because it's something that I love to do.
But I'm trying to get better at taking time to stop, pause, and relax. When I'm in Hong Kong there are two places where I go for gong meditation and sound therapy. In other countries, I try to take advantage of inexpensive massages to relax.
As a customer advisor, how have you seen the Salesforce platform transform the lives of your customers?
I think the most impactful projects I've worked on are where we look at the entire customer experience. Many companies I work with have disparate systems, siloed business groups and really struggle to effectively engage with customers. When that's the case, I love running innovation workshops that bring together people across their organization to shape what an ideal customer and employee experience could be. I then deliver a vision and roadmap on how to make that a reality.  
The companies that use our technology at every moment of engagement in the customer lifecycle across marketing, sales, and service see the largest improvements in their business. It's really about using Salesforce holistically to improve performance.
What's changed at Salesforce since you joined, and what hasn't changed?
What's changed is we've grown tremendously and it's hard to know everyone. But what hasn't changed is the focus on our core values and
culture
. And the one thing I find amazing about Salesforce is the access to information so, although we've grown, the ability to learn and find things out is still readily available. That started off with
Chatter
but has evolved with tools like
Quip
and
Trailhead
. So, our culture of collaboration and transparency has actually improved, despite the challenges of growth.
How have you handled the challenges you face as a female leader in a male dominated industry?
I've always gone in with the attitude that I deserve to be in the room, that I've worked hard and deserve to have the opportunity. At times, you just need to push through in a male-dominated situation, even if it might appear to some that you're too aggressive.
Part of it is how I was raised in an environment where I always believed I could do anything because I was told that. Like being active in sports and being a great skier where I'd only ski with the guys because it was something where I'd always felt comfortable.
But I can recognize that other people haven't had such amazing opportunities at a young age. Among the many cultures where I live today, the expectation between what women and men can do reflects how differently they were raised.  
You are the President of the Women's Network in Singapore. How did your involvement with this group begin and why is it important to you?
When I first joined three years ago, there were a lot of things I thought we could do better. So, I raised my hand, and I was asked to lead the group, which I've done for two years.
Since I've had challenges as a woman throughout my career before Salesforce, and even at Salesforce, I wanted to drive a program that accelerated career development for women. I also wanted to extend our core values around diversity and equality to the way we connect with customers, partners, non-profit organizations and other individuals.
It's also not just looking at women but also looking how we impact younger girls and boys around STEM and concepts like diversity and equality so that expectations and opportunities evolve as they grow older. It's quite rewarding and I'm passionate about it.

Patricia and the Women's Network Group on International Women's Day 2018.
You're obviously "all in" when it comes to work. What about outside of work? Do you have any hobbies?
I grew up an avid skier and my very first job at a ski shop got me discounts on lift tickets, so when I wasn't working I could ski for next to nothing. And that taught me to keep my hobbies as an important part of my life. I still ski and I fly to Japan once or twice each year to ski.
I also scuba dive, and I've had an opportunity to dive in some of the most beautiful places in the world. Even volunteering for my VTO trip, I got to dive. I went to the Maldives (tropical nation in the Indian Ocean composed of 26 ring-shaped atolls) for Manta Trust, which helps raise awareness about mantas and the need for conservation. Watch a video about our trip here.
During our research we identified nine new Mantas. I was fortunate to name one "Ohana", as a representation of our Salesforce family. We also funded a documentary on a Maldivian woman conservationist where, in that culture, women don't usually have an opportunity to do that type of work.
Last question. It's a fun one. If you could have any super hero power, what would it be and why?
I would want to teleport myself. I thought about flying, but flying still takes time. And, I'm an adventurer, a traveler so, if I could just say "boom" and, in a matter of minutes, be in a country or city and soak in the culture and experience of different places, that would be my dream.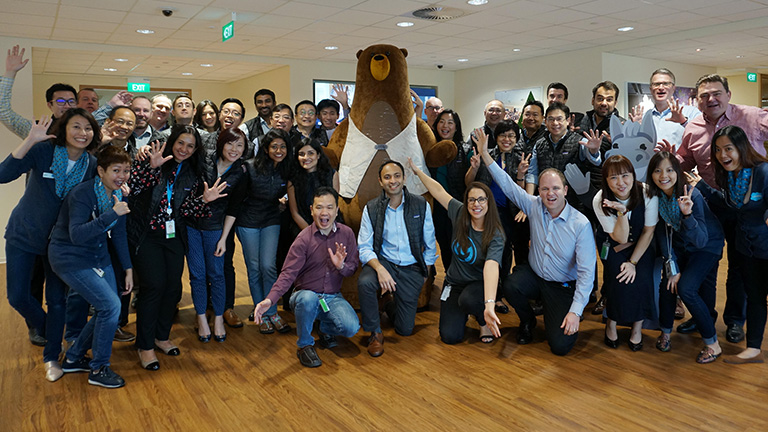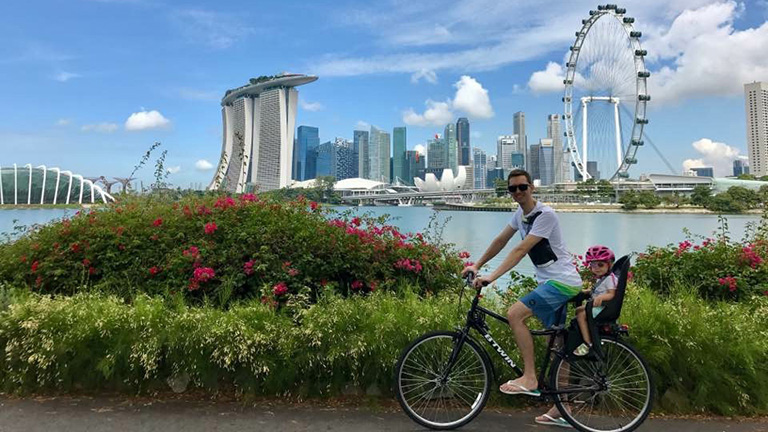 Sign up for our newsletter to stay in the know about upcoming jobs, tips to improve your work/life balance at your current job, and more!