Following ambition and advice from Sydney to Singapore: A Salesforce career story

A direct 'get it done' attitude is something Enterprise Account Director (EAD) Addam Crewe believes is his biggest strength at work. What else would you expect from someone who's up at 5.30 each morning to exercise, practise mindfulness and journal? Don't worry, he's still human though - this is then followed by coffee and pastries, which he confesses is one of his greatest sources of joy!
Settle in as we learn more about Addam and his time in our Ohana across three Salesforce offices.
On work life before Salesforce and how he got here...
I began my career on the graduate program at the World's #1 Baked Beans & Ketchup company - otherwise known as Kraft Heinz. Things were going well, it was just that I didn't see my future in Beans and Sauce so I started looking around and set my mind on moving into an industry that was exciting and growing and then find the best company in that industry. At this point in time, back in 2013, Salesforce was ranked in the top 10 Best Places to Work, and that's how I discovered it. In a lucky turn of events, a Salesforce Account Executive (AE) was talking to my brother's company about the product and was more than happy to refer me in for a role.
On his career journey from Sales Development Rep to Account Director over six years...
Early on when I first joined Salesforce, I remember looking up to some brilliant AEs in Enterprise Sales, hoping one day that could be me. The 20 months in Sales Development was a great learning experience and I was then given a shot in Enterprise Corporate Sales (ECS). At the time, this team had only just been created and it was a bit of a gamble. The role primarily consists of servicing run rate deals and supporting the Enterprise Account Executives to find and close deals in their larger accounts. It's not a natural progression from Sales Development and it's fair to say I struggled for 6-9 months trying to find my feet in this new position and environment, having relocated from Sydney to the Melbourne office for it. My performance continued to improve over the course of two years.
From there I decided to take six months off on an early career Sabbatical and explore Europe and South America. The company was very supportive and luckily, when I started putting my feelers out to come back, Steve Bray & Paul Kyprianou, the Regional Vice President's I had been supporting as an ECS, offered me a job to step up and move from the supporting ECS Account Executive role to being an Enterprise Account Executive with a Whitespace Territory role in 2018. I'm hugely grateful to them that they trusted me with that opportunity.
Then, last year - once again aided by a number of supportive leaders - I got the chance to move to Singapore as an Enterprise Account Director for the Philippines Financial Services Industry. Learning a new culture and adjusting to a different way of life has been a massive change but a highly rewarding one. I've still got a huge amount to learn in the role but the move has been a success in many ways and I am enjoying building relationships in a market where we can make a real difference as the industry begins to accelerate its customer digital transformation initiatives.
My Salesforce career journey so far - like many others' - has been shaped by a village of people that have given their energy, counsel and mentorship along the way. I'm very lucky and grateful for it. A piece of advice I would pass on to others is that when you meet people for their guidance, take notes, take their recommendations seriously and actually put them into practice. Then, tell them how it went. It sounds obvious but it makes a difference. I can't count the number of times I've acted upon advice I've been given by a leader here and it has yielded great results.  
On moving states and countries with Salesforce…
I've now moved cities three times with Salesforce. When I originally applied to start as an SDR, I was living in Melbourne and when the role was offered to me I had to rush to give my notice, break my lease, sell all my stuff and head up to Sydney on three weeks notice. Moving into a site-unseen share house on a Sunday to start a new job in a new city on the Monday was a pretty surreal experience but I loved Sydney and made some awesome friends while I was there.
The next move came after two years in Sydney when I heard about an ECS role available down in Melbourne. I put my hand up for it straight away and back to Victoria I went!
Then, most recently, my move to Singapore began as a conversation with a couple of leaders within the business. My manager was already aware of my ambition to work overseas and fully supported it, so here I am! In these last two instances, the opportunity to relocate has come about from internal discussions rather than formal applications.
On the social contributions he's passionate about making…
One of my volunteer trips was spent building houses in Cambodia, and another assisting Syrian refugees arriving in Greece by boat. Both were incredible experiences. The next cause I want to turn my efforts towards is back home, where there's a huge imbalance in literacy and numeracy rates between indigenous and non-indigenous Australians. I would really like to get more involved in supporting Aboriginal communities to combat this complex issue.

On personal and professional development...
I've spent the majority of my corporate life at Salesforce and I've done a lot of growing up in that time. To be part of an organisation that has such strong values has undoubtedly shaped and strengthened my sense of social conscience. And being in such a hyper growth company has also made me the beneficiary of lots of career advancement. I'm immensely grateful for both of these major influences.
On what the most unexpected aspect of working at Salesforce was...
I didn't realise how much fun I was about to have. The image in my head was a real boiler room scenario where there was heaps of stress and not much reward. But, especially in the early days in Sales Development, we really had a lot of fun. It was always competitive and you were expected to perform but we also did a really good job at celebrating success and getting out of the office as a team.

On what he thinks it takes to succeed at Salesforce…
You have to be hungry and you have to be curious. This company requires you to have a challenger mindset, to be relentless about learning and to have the energy, persistence and resilience to see things through.
On what makes for a great company / workplace...
The bottom line is the people and the culture. This company brings out the best in people and instills a spirit of shared values, so while we might not always agree with each other on certain issues, there is a fundamental understanding of what is acceptable and what isn't in the way we treat each other, partners and customers... I really think that is what makes us a great company.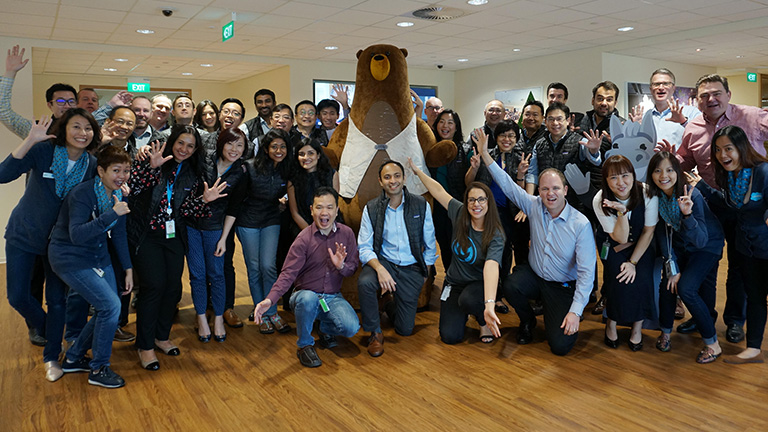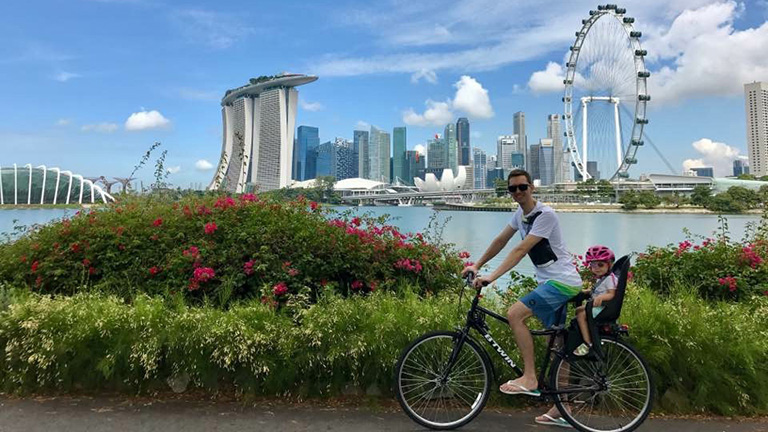 Sign up for our newsletter to stay in the know about upcoming jobs, tips to improve your work/life balance at your current job, and more!