"The scalability, reliability and agility that Heroku provides is key for us to sustain performance during times of high trading."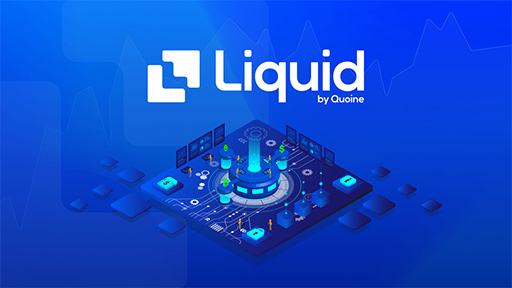 Liquid by Quoine leverages Heroku to transform digital currency trading
Liquid is making cryptocurrency and digital asset trading accessible to all with an innovative exchange platform built on Heroku.
The internet has been the great disruptor of our generation. From completely transforming the retail industry to reimagining how almost all businesses communicate with their customers at a fundamental level, rapidly developing digital technology has left no sector untouched.
Now the rise of cryptocurrencies is putting the world's financial institutions on notice. Despite making worldwide headlines in recent years, cryptocurrencies like bitcoin have predominantly remained firmly within the domain of tech-savvy experts. However, next-generation fintech company, Quoine is changing that with Liquid; a cryptocurrency exchange and trading platform that is bringing digital currencies out of the shadows and into the hands of every-day people.
Former SoftBank senior vice president, Mike Kayamori, co-founded Liquid with Chief Product Officer Mario Gomez-Lozada in 2014. The company became the first global cryptocurrency firm in the world to be officially licensed by the Japan Financial Services Agency in 2017.
"The internet has disrupted many industries, and I look at cryptocurrencies and digital assets as the internet of value," says Kayamori, Co-Founder and CEO. "Currencies have been traditionally controlled by nation states and central banks, and assets like gold have been physical. But the internet is disrupting this too with cryptocurrencies that are decentralised."
Kayamori likens cryptocurrencies such as bitcoin and ethereum to digital gold. However, unlike physical gold, cryptocurrencies have the benefit of being easily divisible and can be sent across the world in real time free of charge.
"If a bank or a nation state goes down, your assets are safe on the blockchain. If you live in a G20 country with a stable national currency like the US dollar, Japanese yen, pound or euro, you're not that worried. But if you live in other emerging markets that are highly volatile, cryptocurrency is a safe haven because it's not correlated to your national debt."
"Nation states are also unable to manipulate cryptocurrencies," he adds. "Similarly, the issuance of national digital currencies can provide central banks a more transparent and cost efficient alternative to physical sovereign cash, which helps make it a safer asset class for their nation states."
"Heroku allows us to have the flexibility we need as cryptocurrency as the blockchain industry continues to reinvent itself"
Securing the digital economy
Cryptocurrency is not a fixed technology and continues to evolve at pace. That's why Kayamori and Gomez-Lozada chose to originally build Liquid on the Salesforce platform when they launched the business in 2014, and moved to Heroku Enterprise and Heroku Shield in 2017.
"Heroku allows us to have the flexibility we need as cryptocurrency as the blockchain industry continues to reinvent itself," says Kayamori. "The scalability, reliability and agility that Heroku provides is key for us to sustain performance during times of high trading."
A prime example of this is when Liquid was able to process an average of 538 bitcoin transactions per second during 1 hour of intense trading on the Heroku based platform during 2018. Heroku delivered the reliable capability Liquid needed during this period of high activity.
Maintaining the security of the platform is also a major concern for Kayamori and his team as they face threats on multiple fronts, including denial of service attacks.
"From a regulatory perspective, it's all about protecting the end user," he says. "We must have the proper customer asset segregation, IT security, and privacy-hosting in place. We use Heroku Private Spaces for this because it provides the security infrastructure and technology, and gives us the control and granularity we need.
"Cryptocurrency is a 24/7 365-days-per-year market. There is no downtime. Heroku helps us to stay online when we want to deploy new features or even when there is a denial of service attack."
Supporting a smarter future
Liquid has already achieved impressive success. The company processed more than US$50 billion worth of transactions in the 12 months between July 2017 and July 2018, and raised 350 million QASH ($150 million) in a highly successful initial coin offering (ICO), also in 2017.
However, Kayamori believes there is much more to be done as Liquid faces the future. He is focused on utilising more artificial intelligence (AI) and machine learning in the platform in the coming months and years.
"There are many things on a high frequency exchange platform that humans just can't do," he says. "For example, we need to be able to detect suspicious trading and market manipulation, and we'd like to provide AI-based trading strategies that our customers can tap into. Looking at user behaviour will also help us to improve personalisation and the customer experience.
"Cryptocurrency presents a massive opportunity on a global scale. As we grow, we need to work hand-in-hand in with Salesforce and other industry partners to ensure that as everything becomes more digital and data driven, we have an infrastructure in place that is able to support that."
Keep exploring stories like this one
Questions? We'll put you on the right path.
Ask about Salesforce products, pricing, implementation, or anything else — our highly trained reps are standing by, ready to help.