CRM stands for Customer Relationship Management. A CRM system allows businesses to manage business relationships and the data associated with them.
CRM enables you to focus on your organisation's relationships with individual people, you can store customer and prospect contact information, accounts, leads and sales opportunities in one central location, ideally in the cloud so the information is accessible by many, in real time.
While a CRM system may not elicit as much enthusiasm these days as social networking platforms like Facebook or Twitter, they are similarly built around people and relationships. Which is why it can be so valuable for a fast-growing business.
Any business starts out with a foundation of great customer relationships. You, the seller, connect with people who need your product. Yet, as your company grows, these business connections grow more sophisticated. It's not just a transaction between the buyer and seller. You start to manage a myriad of connections, across time, within each company you do business with. You need to share information across various teams within your own organisation who are making contact with the same customers. A CRM system can serve as a vital nerve center to manage the many connections that happen in a growing business.
To run smoothly, your business needs customer relationship data that's automatically updated with instant access for employees and provides a full history of all communications, meetings, and documents shared.
With a CRM system, your business has one place to store every customer, every lead, every service request, contact information, preferences, and history. That way your conversations are always personal, relevant and up-to-date. All of this information is accessible on mobile and desktop through powerful reports and dashboards.
Marketers can also use CRM to better understand the pipeline of prospective sales making forecasting simpler and more accurate. You'll have clear visibility of the path from enquiry to sale, available wherever and whenever you need it.
Today growing businesses manage customer connections and information in a variety of ways. Whilst some use old fashioned note cards and Rolodex, others store information on their mobile phone as well as on Excel spreadsheets or Google documents. This may help in the short term when you have a small team and don't plan on scaling your business. However, if you want to scale for fast growth, it may be time to consider a CRM system to help you collect your business data in one place. Having this data accessible via the cloud will also free up your time to focus on delighting customers rather than letting valuable insights and information fall through the cracks.
Customer relationship management (CRM) software consolidates customer information and documents into a single database so business users can more easily access and manage it. The other main functions of this software include recording various customer interactions (over email, phone calls, social media or other channels), automating various workflow processes such as tasks, calendars and alerts, and giving managers the ability to track performance and productivity based on information logged within the system.

Common features of CRM software include:
Cloud computing is quickly replacing the traditional model of having software applications installed on on-premise hardware, from desktop computers to rooms full of servers, depending on the size of the business. With cloud computing, businesses access applications via the internet. It's called Software As A Service (or SaaS). Businesses are freed up from having to maintain or upgrade software and hardware. Just log on and get to work, from anywhere and, in many cases, any device.
Salesforce is the leader in cloud computing, offering applications for all aspects of your business, including CRM, sales, ERP, customer service, marketing automation, business analytics, mobile application building, and much more. It all works on the same, connected platform, drawing from the same customer data - so as opposed to working in silos, your entire company can work as one a team. As it's all in cloud as opposed to being installed on-premise, even the largest, enterprise-wide deployments can happen in a fraction of the time of traditional deployments, which can take over a year.
"Marketing and sales costs average 15% to 35% of total corporate costs... In cases we have reviewed, sales increases arising from advanced marketing and sales information technology have ranged from 10% to more than 30%, and investment returns have often exceeded 100%."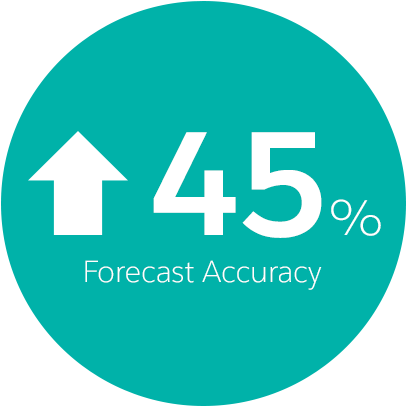 Source: Salesforce.com Customer Relationship Survey conducted March 2014 - May 2014, by an independent third-party, Confirmit Inc., on 4,100+ customers randomly selected. Response sizes per question vary.
Identify and categorise leads
A CRM system can help you to identify and add new leads easily and quickly and categorise them accurately. You can create customised pitch documents in less time, cutting down on response time and enabling sales teams to move on to the next opportunity. With complete, accurate, centrally held information about clients and prospects, sales staff can focus their attention and energy on the right clients.
Increase referrals from existing customers
By understanding your customers better, cross-selling and up-selling opportunities become clear – giving you the chance to win new business from existing customers.

With better information you'll also be able to keep your customers happy with better service. Happy customers are likely to become repeat customers, and repeat customers spend more – up to 33% more according to some studies.
Improve products and services
A good CRM system will gather information from a huge variety of sources across your business and beyond. This gives you unprecedented insights into how your customers feel and what they are saying about your organisation – so you can improve what you offer, spot problems early and identify gaps.
To find out more about how cloud-based CRM could help you and your business — saving you money, solving administration headaches and giving you in-depth, actionable customer information