Introducing Salesforce Order Management
Deliver seamless ordering with ease, clarity, and accuracy.
Meet the customer-first order management system, built on the #1 CRM to handle your busiest days.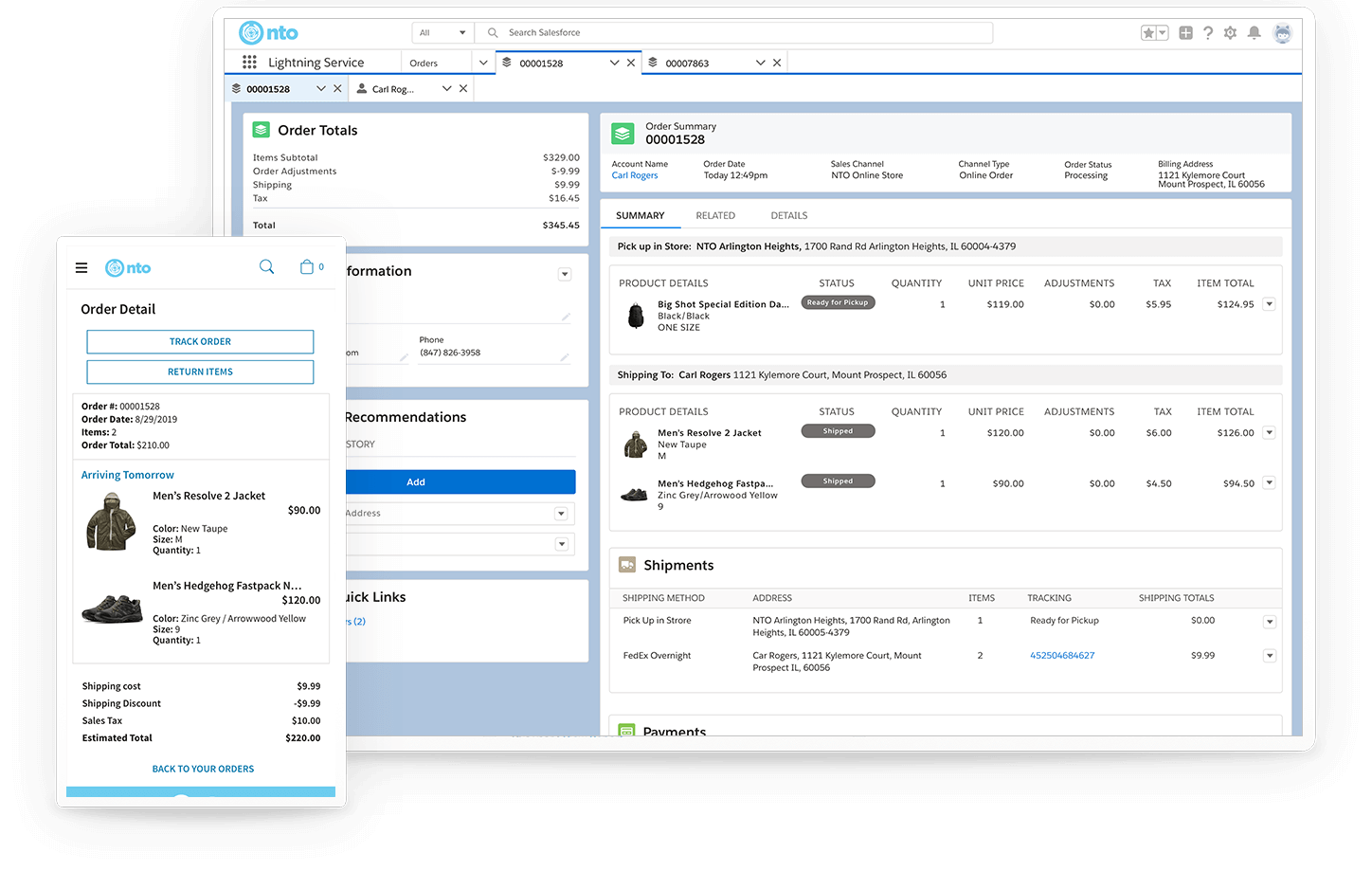 Complete Order Management
Come through for your customers, from shopping to shipping.
Visually manage workflows.
Automate order fulfillment, payment capture, and invoices with supply chain workflows. Customise the business logic behind these processes with simple drag-and-drop tools.
Deliver on complex orders.
Get more out of your inventory. Split fulfillments across locations. Plus, let your buyers select partial shipments or multiple addresses.

Process payments automatically.
Salesforce Order Management connects to your payment systems for easy payment capture. No more manually generating and settling invoices.
Manage cancellations and returns.
Let customers take cancellations into their own hands. Issue painless returns, refunds, and exchanges — even before fulfillment. Take care of negative invoices right away.
Connect Commerce and Service
Go above and beyond with unified order servicing.

Connect B2C Commerce and service.
Connect your service team to Salesforce B2C Commerce on day one. Get more done with a unified view of customer cases, preferences, orders, and more.
Give customers self-service abilities.
No need to pick up a phone or play email tag. Let customers check order status, cancel, or initiate a return with just a few clicks.
Equip service reps for success.
Manage returns, cancellations, and other services without switching between systems. Resolve more cases faster by automating common requests.
Extend capabilities easily with order management built on Salesforce.
Do more with a flexible platform.
Cloud-based order management makes extensibility easy. Manage apps, microservices, community hubs, and overall customer experience with your complete data record on the Salesforce Platform.
Automate your business without code.
Create visual workflows and adjust them faster than ever. Use easy, drag-and-drop automation tools to manage complex processes with clicks — not code.
Benefit from the world's #1 CRM.
Running on Salesforce means you get three upgrades each year, and everyone's on the current version. Trust, transparency, and accessibility are always included.

Launch, integrate, and scale with help from our partner network.

Connect prebuilt apps or build your own.
Easily add apps for payments, tax, warehouse management, store, and more. Customise order management with partner apps found on AppExchange.
Choose your implementation partner(s).
Take your pick from a list of specialised partners, here to help you implement Salesforce Order Management exactly the way you need it.
Get a single view of your customer.
Bring order management, ecommerce, and CRM together for a 360° view of your customer across all channels. Share transparent order statuses and see every commerce, service, and marketing interaction.
Questions? We'll put you on the right path.
Ask about Salesforce products, pricing, implementation, or anything else. Our highly trained reps are standing by, ready to help.