Mobile Marketing Examples to Energize Your 2016 Campaigns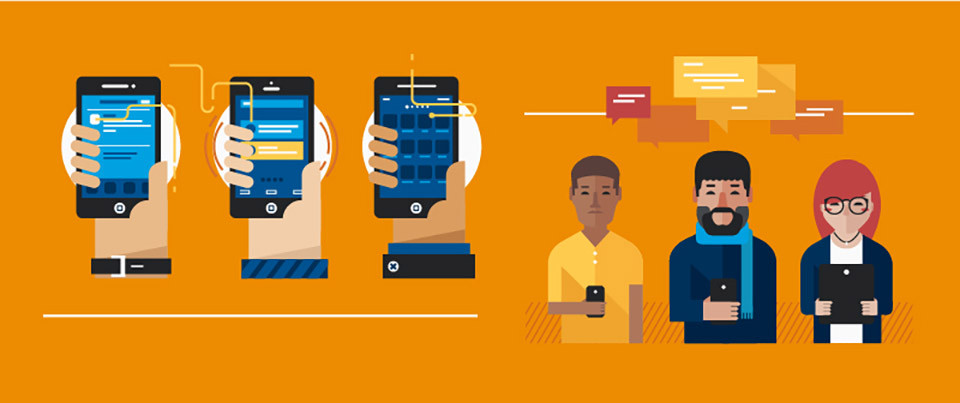 First, it was print advertising. Then television. Then the Internet. Now, marketing on mobile devices is critical to a business' success because consumers are glued to their smartphones and tablets. According to recent research, "From Q2 2014 to Q2 2015, the total population of smart devices measured by Flurry grew from 1.3B to 1.8B, a 38 percent year-over-year growth." The report adds:
"Regular Users, consumers who use apps between once and 16 times daily, grew from 784 million to 985 million in the same period, a 25 percent increase." 
"Super Users, consumers who use apps between 16 and 60 times daily, grew even more in that same period from 440 million to 590 million, a 34 percent increase." 
"Mobile Addicts, consumers who launch applications 60 times or more per day, [grew] at the fastest rate, from 176 million in Q2 2014 to a whopping 280 million in Q2 2015, a 59 percent increase."
In her analysis of current Internet trends, Mary Meeker, a partner at Silicon Valley investment firm Kleiner Perkins Caufield & Byers, found that there is a $25 billion gap between how much time consumers spend on their mobile devices and how little brands are investing in mobile advertising. For marketers, mobile offers the perfect outlet to reach, engage, and convert customers. In this article, we share tips that brands and marketers can use to capture and compel mobile audiences.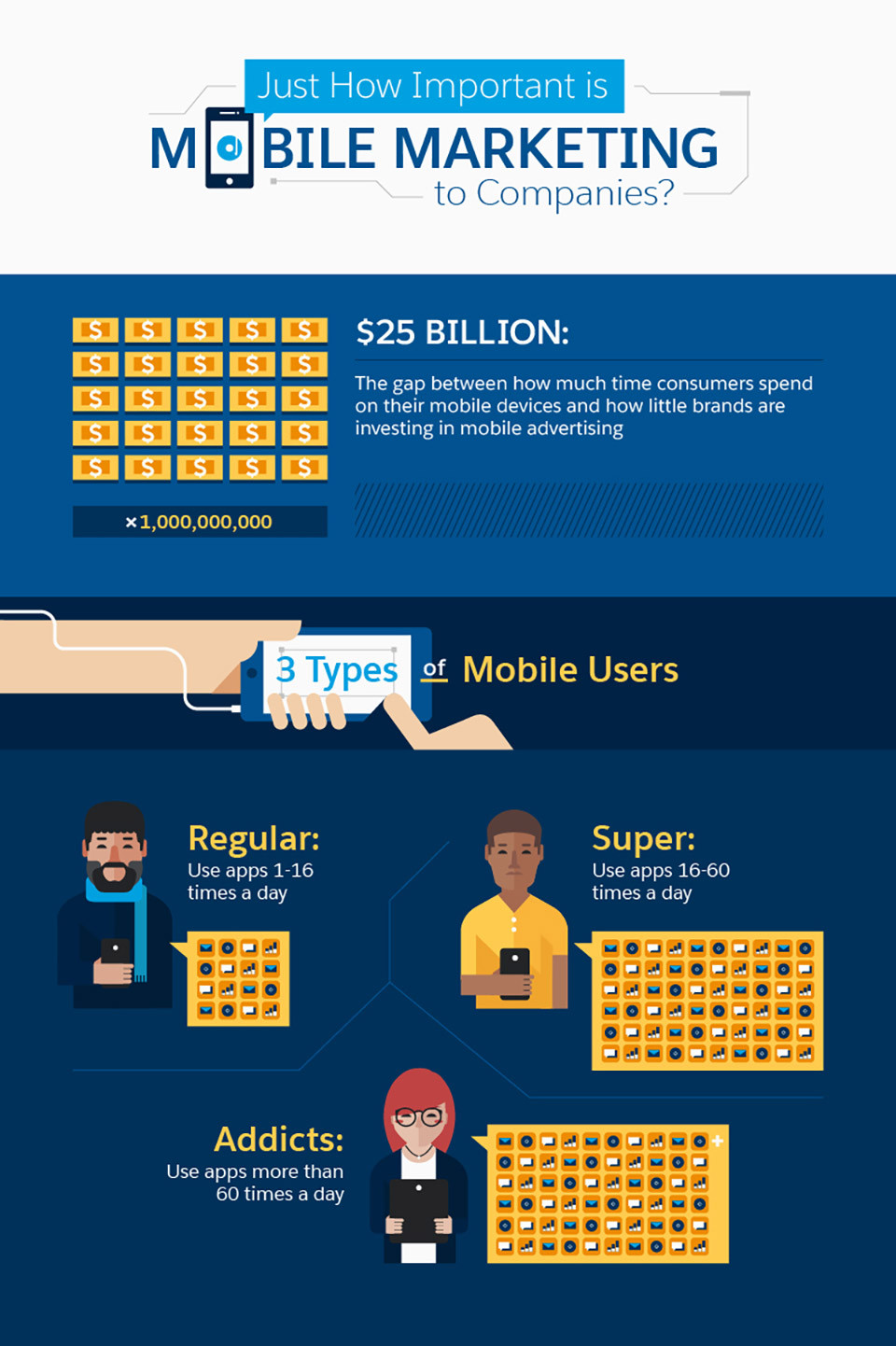 Benefits of Pinterest for B2B and B2C Companies
Once you get a feel for the platform, you'll see some of the benefits. Here's a quick overview:
Visual content is valuable
We've seen this with the Google carousel and the popularity of infographics. In fact, Google started featuring Pinterest pins on its search engine results pages (SERPs) this year.
It encourages sharing
Most of the pins on Pinterest are repins, proving the importance of word-of-mouth recommendations. For most Pinterest users, repinning is an essential part of using the platform.
It drives traffic to your website
You can put a link to your website under every pin you publish, which drives targeted traffic to your website.
Content is targeted and segmented
Most social media websites don't offer much in the way of organising content. Pinterest makes it easy for users to follow certain boards, topics, and content. You know they're interested in your content and that you're not spamming your audience with content that doesn't apply to them. The site essentially segments your audience for you.
Competition is light
Pinterest is competitive, but at 100 million monthly active users, it has far fewer users than other, busier networks: Facebook boasts 1.55 billion, Instagram has over 400 million, and Twitter comes in with 320 million. With these numbers, it's easier to compete with other businesses because Pinterest is structured in such an organised and targeted way.
In addition to these benefits, there are two additional reasons Pinterest can be a great platform for B2B companies:
Connect with audiences over a longer period of time
According to a PR NewsWire article, the half-life of a single Pinterest pin is three and a half months — more than 1,600 times longer than a Facebook post.
Pinterest can help you utilise your older content
While Google may give more weight to newer content, Pinterest keeps it all the same in search results, based on relevancy and popularity.
To help its users create better home-cooked meals, food delivery service Blue Apron introduced a smartphone app filled with recipes and how-to videos. Using a different approach to customer engagement, cosmetics brand L'Oréal launched its Makeup Genius app so fans could virtually try on its products. With mobile shopping on the rise, luxury e-tailer Rue La La decided to build a mobile store that allowed shoppers to seamlessly browse and buy from the company's latest, limited-time-only sales. Now, mobile drives more than 50 percent of the business' overall revenues.
 
Takeaway: Offer Your Customer an App
 
In the App Store and the Google Play Store, many brands have developed apps aimed at enhancing the customer experience. Thus, in 2016, marketers can also foster stronger customer loyalty and improved brand sentiment by working with their engineering and product teams to produce world-class apps that users will open frequently. In fact, a survey by Ipsos revealed that 52 percent of people who regularly used at least one branded mobile app were more inclined to become paying customers.
After users have downloaded your app, get them to opt into push notifications. That gives you permission to deliver messages to those users' smart phones, even when they're not using your app. And with clever notifications, app developers and marketers always find a way to attract users back to their mobile app.
In response to a question on Quora, mobile marketing expert Dave Goldstein listed his favourite examples of push notifications in action. Among those are:
Jack Threads, which sent users a winter-appropriate notification saying, "Up to 60% Off: The Polar Vortex Sale. Ft. Coats, Boots, and Cold Weather Accessories. Promo Code: COLD"
Tablelist, which riffs on a current event with, "Facebook botched that whole 'year in review' thing. Good thing you can start this year right with Tablelist!"
LoungeBuddy, which hosted a giveaway featuring a strong call to action reading, "42 hours left to enter the 'Escape to Hong Kong' sweepstakes where you can with a free trip to HK. Create a trip, go to Settings, and …"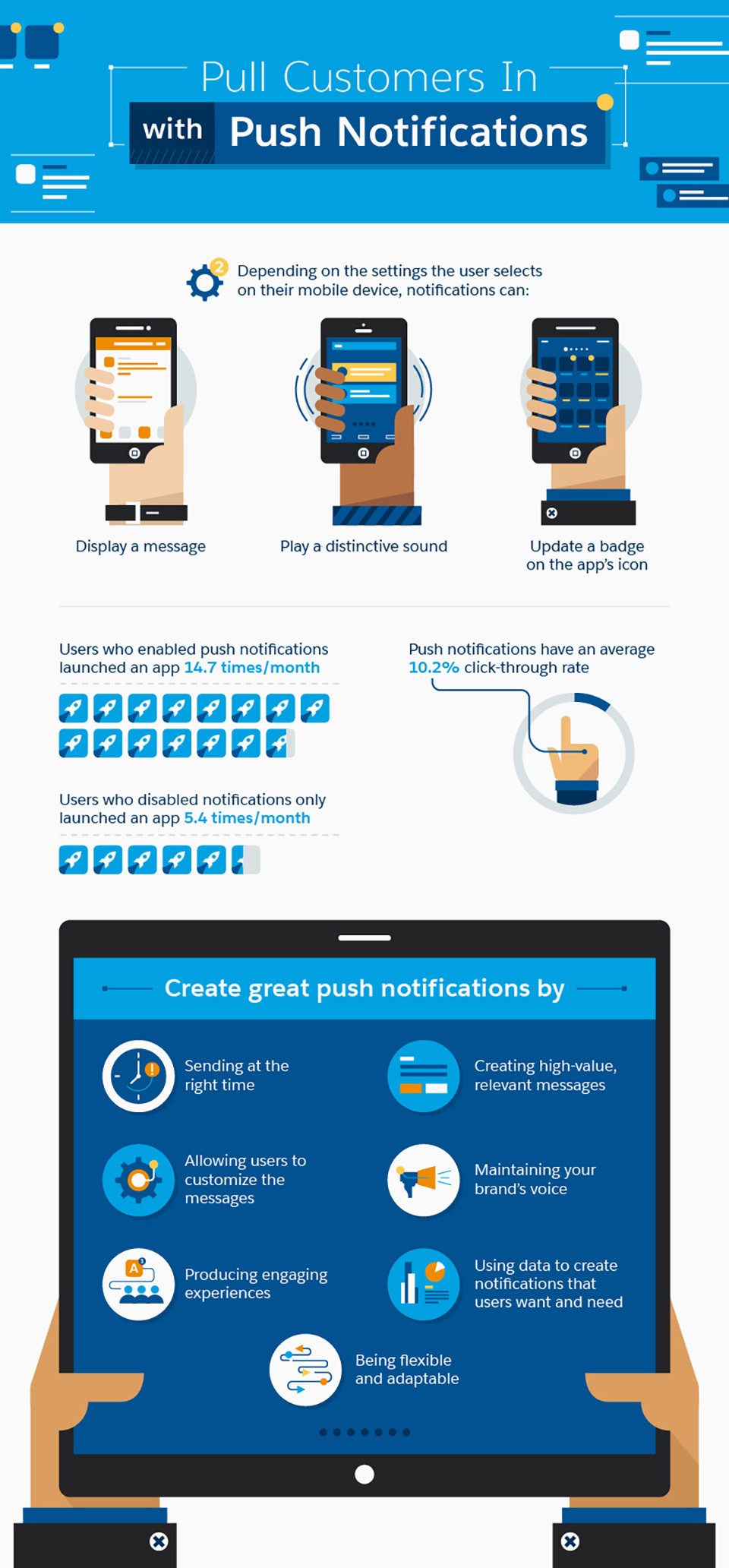 With push notifications, marketers effectively prompt users to revisit their app. Data from Localytics said, "In 2015, users who enabled push notifications launched an app an average of 14.7 times per month, whereas users who did not only launched an app 5.4 times per month. In other words, users who opted in to push messages averaged 3x more app launches than those who opted out." What is even more exciting is that push notifications have an average 10.2 percent click-through rate (CTR).
 
Takeaway: Make Your Push Notifications Hassle-Free
 
To create push notifications users will respond positively to, Brent Hieggelke shared seven tips:
Empathise with users' busy schedules. Avoid sending push messages when they do not want to be disturbed.
Send high-value, contextually relevant messages.
Let users customise the messages they see.
Maintain a consistent brand voice.
Produce rich, engaging experiences.
Use data and iterate on your approach.
Be flexible and adapt to each user's current situation.
In recent years we've seen what industry experts call a "dual screen phenomenon," where TV viewers also tune into their smartphones to tweet about or share their reactions to their favourite shows or live events. Some marketers have capitalised on this trend by developing app or mobile Web experiences that are meant to pair well with users' favourite TV programs.
"Heineken recognised that many people access their mobiles while watching TV and developed a real-time game around the Champions League," wrote Lauren Fisher for The Next Web. "StarPlayer is a mobile game that was developed to allow fans to interact in real time, as the game reacted to what was happening in the actual game. Users could only unlock a game about 10 minutes before the actual UEFA game started and then had to answer a series of questions based on the real-time game play."
 
Takeaway: Give Your Users an Experience
 
Instead of paying millions to broadcast a 30-second clip that interrupts viewers' shows, brands can build experiences that complement, rather than compete with, people's TV consumption habits. Consider ways your company can naturally augment your conversation and experience with users.
When a 2010 earthquake devastated Haiti, the American Red Cross launched a donate-by-text program. CNN's Amy Gahran reported, "Relief agencies collected $43 million in donations via text after [the] Haiti quake — sent $10 at a time by texting the word 'HAITI' to the shortcode 90999." On a smaller scale, many brands prompt people to text a number with a special code or phrase to redeem a free offer, such as a coupon or sample product.
Melinda Krueger outlines the two types of SMS marketing: subscription-based messaging and text-to-get services. In the former, the recipient opts into receiving marketing or informational texts from a company; in the latter, customers can text businesses to "request deals, information, or service, and deliver votes, feedback, or contributions." Text-to-get messaging puts the customer in control and gives brands the opportunity to show value in their SMS marketing before asking customers to subscribe.
 
Takeaway: Keep Customers Informed with Text Messaging
 
Marketers can use SMS to regularly communicate, since it's a medium customers are already intimately engaged in. A 2015 survey by MobileSquared noted an overwhelming majority — 90 percent — of mobile users read text messages within three minutes of receipt. And compared to email, promotional text messages have a six to eight times higher response rate.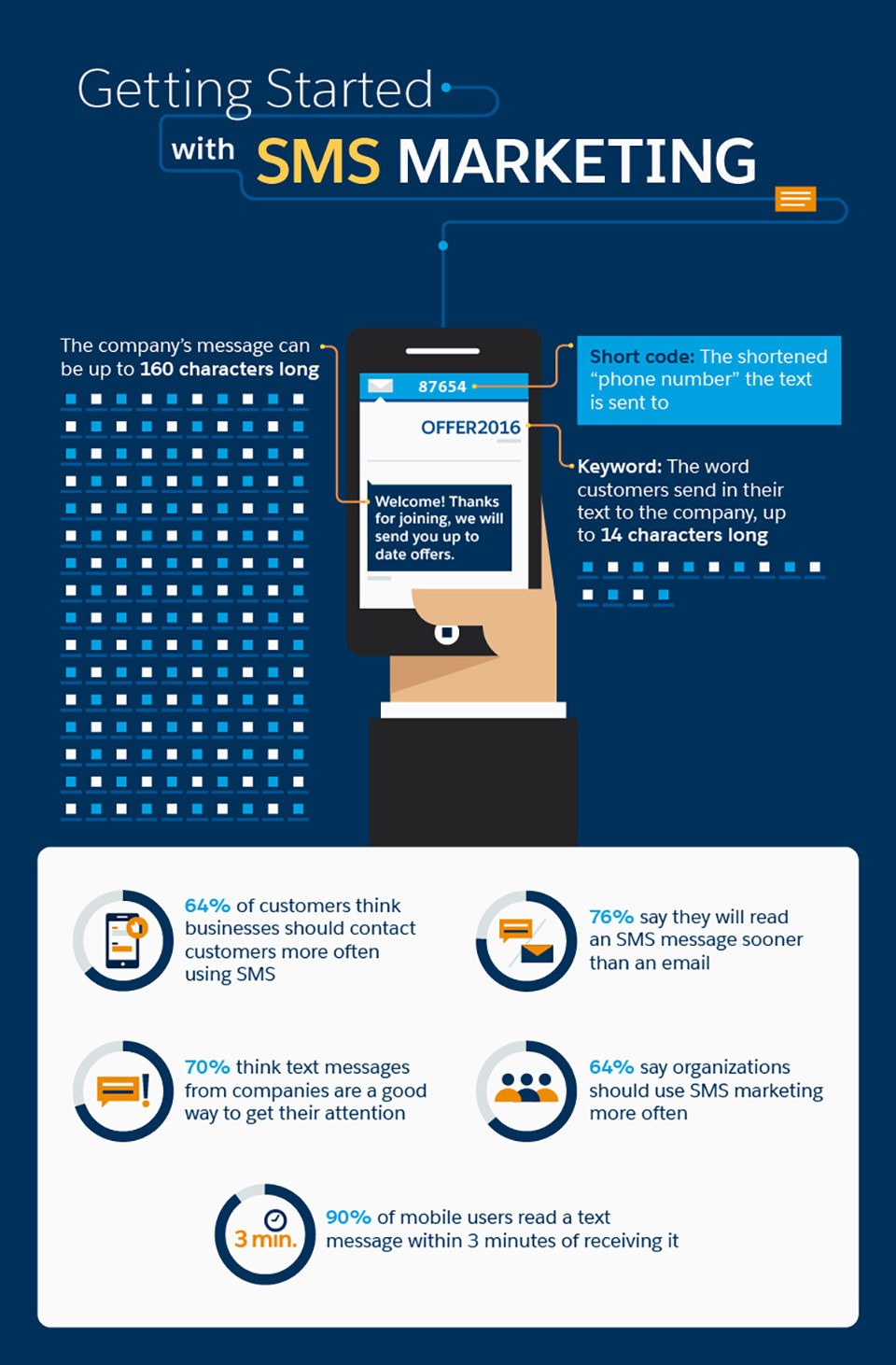 Early last year, a report from Informate Mobile Intelligence stated that Americans check their social media accounts 17 times a day using their smartphones. The same study also pointed out that people spend an average of 4.7 hours every day on social media through their mobile devices. For businesses, this means Facebook, Instagram, Twitter, and Vine are perfect channels for distributing branded messages. Three ways companies can market to mobile social media users are:
Social media ads
Brand-influencer partnerships
Organic social media posts
For Mercedes-Benz, Instagram ads promoting the launch of its customisable compact SUV, the GLA, led to a 580 percent increase in traffic to its website. For geolocation-based dating app Happn, sponsored Instagram posts have helped the company reach more than 3 million users in a month in several targeted cities, with a remarkable 84 percent app download conversion rate, reported Tanya Dua of Digiday. With social media ads, brands can hypertarget consumers based on location, age, and interests to drive significant ROI.
When brands want to borrow clout and credibility, they turn to influencers. On Instagram, beauty subscription service Birchbox teamed up with lifestyle blogger Emily Schuman to curate its May beauty box. At the time, Schuman had more than 260,000 followers when she posted about the partnership on Instagram. That photo earned 18,000 likes and reached half a million consumers.
Finally, for companies that want to express their own creativity, organic social media posts are the perfect way to connect with customers in a more authentic manner. For example, Lowes' "Fix in Six" campaign produces high-quality short clips that Vine users can view on their phones to discover quick and easy ways to make home improvements. Recent Vines from Lowes have been "looped" (viewed) between 118,000 and 375,000 times.
 
Takeaway: Use Social Media to Connect
 
Well-placed ads, partnerships with online influencers, and engaging organic posts are key to marketing to your audience on social media sites. Connecting with consumers has never been easier thanks to these platforms.
In the new year, marketers ought to re-evaluate how they have allocated their first and second quarter marketing budgets. With a huge opportunity to connect with consumers where they live digitally, brands can't afford to pass on mobile marketing.
Businesses everywhere are slowly abandoning their desktop-only approach to marketing in order to invest in ads and experiences customers will love when they are staring at their smartphones and tablets. Using these examples and tips, hopefully you can create your own engaging and impactful mobile campaigns too.
Share "Mobile Marketing Examples to Energize Your 2016 Campaigns" on your site:

Questions?
Our reps have answers.
Ask about Salesforce products, pricing, implementation, or anything else — our highly trained reps are standing by, ready to help.