Is collaborative selling the answer to increased productivity and pipeline?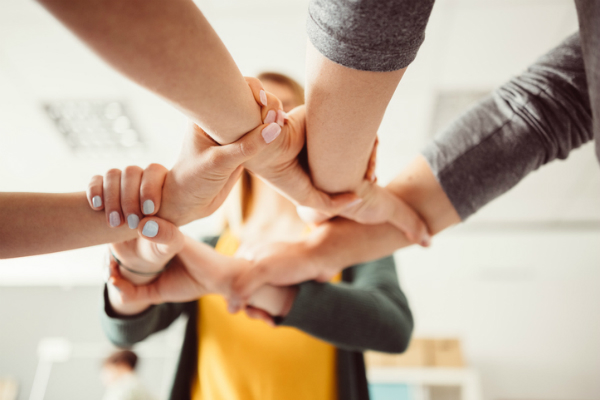 Sales teams can no longer operate in silos. They need to connect with different departments, channels and partners in order to have complete visibility of the customer journey. But, there's good news. The State of Sales report reveals big wins are possible from adopting a collaborative approach to selling.
New technologies have put customers in the driver's seat, dictating the type of experience they want to receive – and their loyalty is on the line. We know that 73% of consumers are likely to switch brands if a company provides inconsistent levels of service between departments (i.e. sales and customer service).
Empowered and connected, customers have the ability to oversee a business's success or demise. Only those organisations that treat customers with intelligence and awareness, collaborate internally and externally, and provide a connected customer journey will survive in this new world.
Collaboration is crucial to sales success
Sales leaders must reimagine the traditional sales approach, and collaboration is key. In order to provide an instant, tailored and seamless customer experience, sales teams need to be collaborating with customer service, marketing and any other department that touches the customer.
Sales professionals are largely onboard, with 73% stating that cross-departmental collaboration is crucial to the overall sales process. No surprise, really, given sales are often at the coal face of a bad customer experience. No-one wants to be selling to a customer who's just phoned up a call centre and had to enter their details three times. Or be the salesperson on the road who's visited a customer oblivious to a major service issue underway.

Good collaborative selling looks like this
More and more sales teams are taking collaboration to the next level by integrating other departments and channels into the sales process. In Australia and New Zealand, 60% of sales professionals rate collaborative selling as a crucial part of the sales process – slightly lower than the global average of 62%.
But good collaborative selling extends beyond cross-departmental collaboration. It's also about building and bolstering a supportive partner ecosystem. The right partners can help companies access and uncover opportunities that they wouldn't be able to do on their own, while also adding value to the customer experience. For example, a hotel chain could partner with an airline and rental car company, so that the customer can book their entire trip in one interaction.
Yet, currently only the top sales teams are prioritising partner relationships as part of their collaborative selling strategies, with high-performers 2.1x more likely to rate their partner and customer collaboration as outstanding or very good.
While this approach is not universal, we're starting to see some real innovation in Australia and New Zealand. Particularly in the B2B space, sales teams are prioritising a shift in approach and improving their partner ecosystem, all so they can better support customers collectively and differentiate their offering.
A single customer view is essential
True collaborative selling is only possible if the organisation has a single view of the customer. This means complete historical and real-time records of any customer touchpoint, across the entire business. Particularly in a complex B2B world, where there's often multiple sales managers over the span of a contract, it's important that the experience is consistent and the customer isn't starting from scratch with every new contact.
Start-ups are building their businesses with this single customer view in mind, but established businesses are often burdened with legacy, siloed departmental systems. While 68% of sales professionals agree that it's very important to have a single view of the customer across the business, only 17% rate their capabilities as outstanding.
The benefits of collaborative selling
With the right tools in place, collaborative selling is arming sales reps with customer intelligence that's allowing them to come from a more informed and proactive position. This is not only causing an uptick in customer satisfaction but also productivity, with 60% of sales professionals saying that collaborative selling has increased productivity by more than 25%.
Meanwhile, 52% say that it also increases the customer pipeline. If you're truly partnering with the customer in a more informed and connected fashion, providing a better service, then naturally this will have a flow-on effect to the customer pipeline. This is most likely to come to fruition through sales referrals, which also improves productivity because you're sitting down immediately with the decision-maker. It's all an upward spiral.
Discover the strategies and tactics high-performing sales teams are using to stay ahead of the pack. Download the State of Sales report.

Brigid Archibald is Commercial Sales Director at Salesforce. Read more from Brigid Archibald.