Questions? Call us at 1800 667 638 (AU), 0800 450 064 (NZ),+65 6302 5700 (SG), 000 800 001 6000 (IN).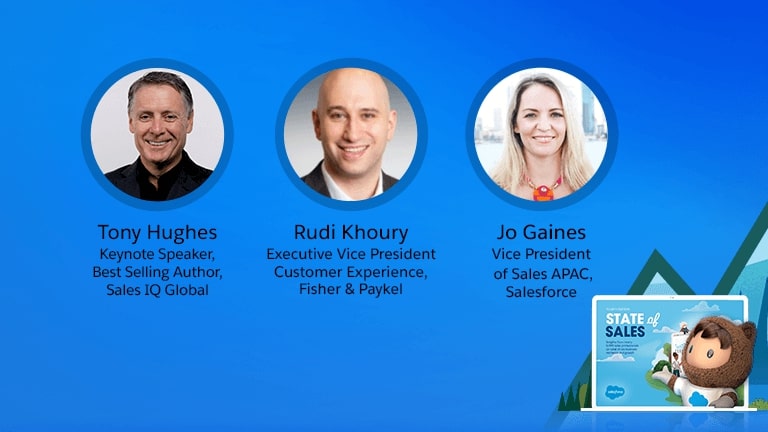 Unpacking the State of Sales: What are the next steps for sales leaders?
It's no surprise that 77% of sales leaders say their digital transformation has accelerated since 2019. Yet, according to our recent State of Sales report, many leaders admit they're not completely ready to map key business priorities to changing conditions.

But don't fret sales leaders, we've got you covered.

In this webinar, we've enlisted the best of the best in sales leadership to help you map your next steps for future success. Join Vice President of Sales APAC at Salesforce Jo Gaines, along with best-selling author and sales innovator Tony Hughes and Executive Vice President - Customer Experience, Rudi Khoury from Fisher & Paykel as they break down the biggest findings in the State of Sales report and discuss B2B sales strategies. Secure your spot for this insightful webinar and learn about:
Identifying and developing new skills amongst your sales team.
How Fisher & Paykel pivoted their sales and distribution channels in response to changing customer buying behaviour.
Business tactics for sales success.
---
FEATURED SPEAKERS
Tony Hughes |Keynote Speaker, Best Selling Author |Sales IQ Global
Rudi Khoury | Executive Vice President - Customer Experience | Fisher & Paykel
Jo Gaines | Vice President of Sales APAC| Salesforce
Please fill out all fields.