Run and grow yourbusiness with the world's#1 CRM solution.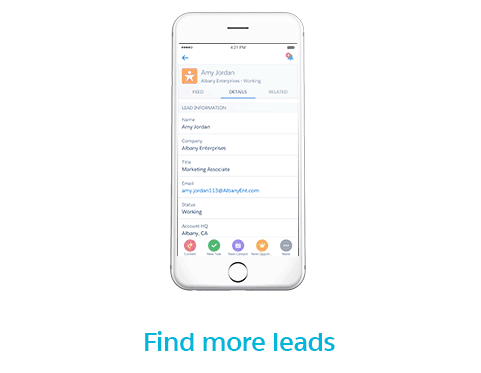 The definition of CRM is customer relationship management. In a nutshell, CRM lets you store and manage prospect and customer information, like contact info, accounts, leads, and sales opportunities, in one central location. You'll discover that it's not just a fancy contact list. Ultimately, a CRM solution is a game-changing piece of technology for every industry under the sun — from retail and manufacturing, to real estate, construction, and many more.
As a result, CRM can help you:
Increase leads
Close more deals, faster
Drive customer loyalty and satisfaction
Salesforce gives you all you need to work smarter and faster, and help you keep your customers happy.
Small business CRM from Salesforce
Even if your customer base is small, no one can keep every interaction — ones that have happened, or need to happen — memorised and organised.
At Salesforce, we believe small businesses can use technology as a force multiplier to punch way above their weight. Our cloud-based CRM solution levels the playing field for your small business.
Because Salesforce is in the cloud, it can grow and scale with your business. You can easily add features from tons of apps in our marketplaces without adding costly infrastructure, and Salesforce upgrades are instantly implemented as soon as they're available without disruption. With all your information on customers, prospects, and leads stored on a single online platform, everyone in your business has access to the latest information — no more version control headaches or out-of-date spreadsheets. Need to ensure your salespeople have access to the information they need when out at customer meetings? No problem. Our CRM system is fully mobile, so your data is available on any connected device, at any time.
On average, Salesforce helps our customers boost their sales by 37%. But the benefits of Salesforce CRM for small business don't end when you make a sale. Customer service benefits, too. Our solutions help to build stronger relationships with your current customers, win new ones, and accelerate business growth. And intelligent marketing automation helps you focus resources on the tasks that really add value, while a common platform for all your data helps to build strong relationships across all your channels, including social, Web, email, and customer call centers.

Sign up once and access all our resources.
Please complete all fields.