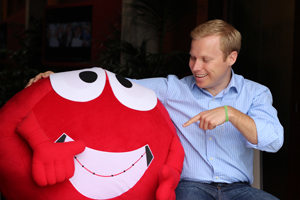 Landing a killer internship as an MBA student is no easy feat.  After innumerable resume re-writes, hours spent networking, five interviews, and a body cavity search (kidding), I finally received an internship offer from salesforce.com to work on the Chatter team.

When I started, I was given my computer, a building badge, and a nice little messenger bag, but no one told me when I could expect to access my email.  And then, the best part of this internship fell right in my lap.

As we headed out to lunch, my manager told me that the Chatter team would be using me as the test subject in a little social experiment: no email for the summer. Inbox addicts might balk, but you have to understand - for me, it's like I won the lottery. After nearly five years in corporate email purgatory, I've been given a reprieve.  I can ignore email all summer - in fact, it's part of my job.

So as of right now, I'm quitting email cold-turkey and only using Chatter for electronic communications.   To hear more about my email-free summer, you can follow me on Twitter under the handle @endofemail and by accessing Chatter's Facebook page.