Got Social Sales? Cloudforce Australia Rocks the House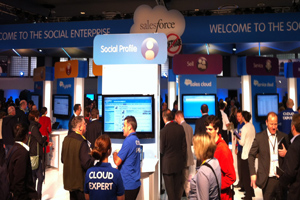 What an awesome Cloudforce event we just had in Sydney. Thousands of customers attended, like these folks in the picture, learning from each other and getting down in our campground with the newest Salesforce and partner social and mobile sales offerings. It was a terrific day. I love this town.
Big props to the local Sales Cloud superstars who presented in our sessions: Rio Tinto, National Australia Bank, and Atlassian. Kaisa Freeman from Rio Tinto spoke about why Rio Tinto chose Salesforce to manage their educational partnerships in our well attended Sales Cloud for Beginners session. And John Rotenstein delivered a great story on how Atlassian measures ROI using our Enterprise Analytics capabilities in a session centered around sharing best practices and new product releases.
Also exciting were the two new video profiles in the keynote, Commonwealth Bank of Australia and Spotify. It's amazing what people are doing with social to really take care of their customers.
So who do you think the best dressed attendees were? This fairy? Or perhaps this gorilla?




Thanks to those of you who turned out. Next up is the mother of all events, Dreamforce 2012. Click here for early bird registration. We can't wait to see you in San Francisco!