How 6 Companies Are Winning With Data.com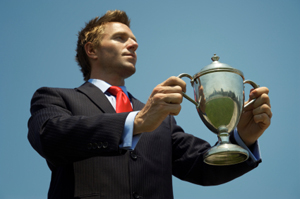 by Amie Vaccaro, Product Marketing Manager, Data.com 
Salesforce.com picked 6 customers to receive the Data.com Customer Hero Awards.  Winners were selected based on their outstanding success and exceptional metrics.  Please read on to see their results.
1.  EBIOSCIENCE, AN AFFYMETRIX COMPANY
"I set out to simultaneously grow and future-proof the eBioscience business. Salesforce and Data.com are not only the best tools, but also the best partners for the job."
-- Austin Zoutis, VP of IT and Business Integrations, eBioscience, an Affymetrix company 
eBioscience, an Affymetrix company, experienced double digit growth over 3 years by streamlining and reinventing its business processes with cloud-based tools. As part of this business transformation eBioscience utilizes  Data.com to keep their sales and marketing data clean and current, while simultaneously building and maintaining a stronger pipeline. Within 90 days of turning on Data.comwithin Sales Cloud, the company reduced cost per lead by over 65% and shortened sales cycles by 50%. 
2. KELLY SERVICES
 "Data.com provided a MASSIVE 42-1 ROI and immediate revenue."
-- Dave McDermott, Director Sales Enablement, Kelly Services
Kelly Services called for the best sales processes and tools to stay ahead of the competition. Previous sources of business data resulted in high bounce rates on email campaigns and unproductive sales calls.  With access to Data.com right within Salesforce, Kelly Services' sales, account management, and lead generation teams reach decision makers faster - and with more confidence.  Within 6 months, the sales teams using Data.com saw a 35% increase in new opportunities and a 52% increase in wins thanks to Data.com.  
3.  LEGRAND NORTH AMERICA
" Sales teams have become more confident in our CRM data quality.  Accurate data isn't everything, it's the only thing." 
-- Ken Uhlmann, Director of CRM Systems, Legrand North America
Commercial and residential electric manufacturing company, Legrand North America relies on Salesforce Sales Cloud and Data.com to maximize their prospecting efficiency and develop new business, while their inside Project Services Team uses it to clean CRM data against user and auto-created "Projects". The ability to clean CRM data against Data.com has instilled confidence in their data quality. Meanwhile, acquiring new accounts and contacts has helped the Legrand Data Communications Division Business Development team improve sales productivity.  
4. BRAINSHARK
"Thanks to Data.com, we've had the best first quarter ever." 
-- Art Gehring, Senior Director Demand Generation, Brainshark
Online video presentation company, Brainshark, had aggressive growth plans. With targeted access to the freshest, most accurate business data from Data.com, Brainshark was able to build key new industry verticals.  Data.com provided Brainshark's Demand Generation team with over 1 million new leads.  Over the course of 9 months, Brainshark sourced 40% of new business from Data.com and achieved an astounding 3000% ROI on Data.com.  
5.  BLOXX
"For the Bloxx web filter to maintain its 100% a year growth rate, we depend upon a quality data source for our business development team. Saleforce's Data.com is the only source "fit for purpose"."
--Eamonn Doyle, President, Bloxx
A web content security and filtering startup, Bloxx enables organizations to block nasty Web content from user's desktops and take control of Website access. Bloxx needed to quickly scale its business into the private sector.  Using Data.com as a primary source of new business, Bloxx was able to expand into the manufacturing, automotive and healthcare industry.  Thanks to Data.com, Bloxx closed over $200,000 in new deals and built $500,000 in pipeline.  
6.  WEEMBA
"Data.com paid for itself almost immediately."  
-- Matthew Reid, Chief of Lender Relations, Weemba
Weemba provides an online financial community for borrowers and professional lenders to connect & interact.  Borrowers post their loan needs in the form of a "loan project", with limited identifying information, and lenders search these projects to find borrowers who fit their lending criteria. Contact information is only exchanged when both parties agree. Weemba's success is largely dependent on locating the right types of lenders, which is where Data.com comes in.  By simply turning on Data.com within Sales Cloud, Weemba opened a floodgate of new lenders utilizing Weemba's community to increase business, including Weemba's largest lender to date.