4 Key Characteristics of Successful Companies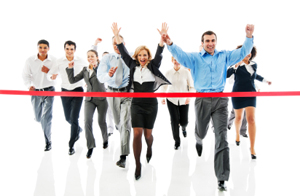 Successful companies are unique—that is why they stand out from the competition. But when you look closer, you'll see there are clear commonalities that contribute to their success.
Think of successful sports franchises. You know the kind of teams we're talking about: the Yankees, Patriots, Lakers, etc. These are the franchises well-known even to non-sports fans because they are unique, but also commonly successful.
According to a recent Aberdeen paper there are four main characteristics that make companies stand out from the crowd:
Being highly organized
Great at collaboration
Accountability
Always making sure they have quality business data (aka Sales Intelligence) about competition and current and prospective customers.
So let's take a deeper dive into the four things that winning teams—and companies—do to become Best in Class.
The Game Plan or Keeping Your Data Organized and in One Place
Winning sports teams do a ton of research on their opponents (especially Bill Belichick). Scouts go to opponents' games or study film of the other team's practices. Then all the fruits of this labor are made available in one place, where coaches and players can access it and make a game plan.
In the business world, the most effective sales teams capture sales intelligence on their prospects, customers and markets, and organize all of the data in one place, like a CRM solution, accessible to everyone who needs it. Solutions such as Data.com are most effective because they're actually part of a CRM, Salesforce — right where reps are already working and everyone has cloud-based access.
Playing as a team or Sharing and Collaborating with Other Lines of Business
Seems like teamwork would be a given on a sports team, but many teams full of talented individuals have been defeated by teams that may be less talented on paper, yet play as a team.
Best in Class companies ensure that sales intelligence is available to other functions within the company like marketing, customer service and operations. When all departments of a company are armed with the same information it allows for a much more cohesive unit and more highly functioning machine. For example, marketing can improve upon their activity metrics if they have more accurate lists. Customer service has more opportunities to satisfy their cases. Even back office staff (accounting and operations) can have a more seamless approach to servicing customers.
On the Hot Seat or Accountability via Goal Setting and Stage Achievement
Within a sports franchise, if you continually come up short in helping a team hit its goals, you get called out, big time—or even worse, you can be given your walking papers. You're cut. Traded. No one is immune, not even huge stars. The best teams don't focus on how much they've sunk into an individual, they simply focus on getting the job done. The job? Winning.
Best in Class companies are also big fans of accountability. Now, because the sales cycle can be complicated and extended, it's not as simple as "make sales or else…" Smart sales teams define sales milestones, including the use of available sales intelligence data. Good business intelligence has been proven to be valuable and effective, so companies need to make sure reps are taking full advantage of it. In fact, teams using Data.com are outperforming their competitors across all channels by significant margins. A 12% increase in sales teams meeting their quotas, 9% higher customer retention and 16% better in accurate forecasting. Reps need to take advantage of Sales Intelligence and management needs to be held accountable for its usage as well.
Know Your Opponent or Keeping Your Sales Intelligence Intelligent
Teams don't just do reconnaissance on future opponents at the beginning of the season. It's a constant process, with scouts posted all over the country, reporting back constantly. And the analysis never ends—even during game time. If a team is working with outdated information, that's trouble.
In the business world, data changes or goes bad faster now than ever. People move on, get promoted, etc. Account data can change quickly too. With intelligence that can be relied upon to be current and accurate, companies keep rep productivity high—along with sales. Data.com, for example, updates data in realtime, so sales teams can use the data with confidence. Data.com even sends alerts when changes take place. It's not surprising that Data.com customers report a significantly higher satisfaction in the quality of their prospects.
Conclusion
Now think about your company. Does it have the characteristics of a winning team? If so, great, but there's probably areas in which you think there can be improvement. If not, there's no one magic bullet that will make everything fall into place. But steps can be taken to become a champion, Best in Class company, like using better sales intelligence tools. And the numbers show that one of the top tools is Data.com running in Salesforce.
Learn more at a free webinar
If you'd like to find out more, please join Data.com for a free webinar featuring Peter Ostrow, VP/Group Director, Customer Management and Principal Analyst, Sales Effectiveness at the Aberdeen Group, who will be presenting the 4 steps that Best in Class businesses use to increase rep productivity. Peter will be followed by David McDermott, Director of Sales Enablement at Kelly Services, which participated in the Aberdeen study. He'll reveal his key plays which validate Aberdeen's research—and has lead to an 18 to 1 ROI in Data.com.