The First Ever Small Business Experience at Dreamforce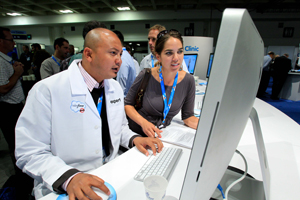 If you are a part of a small business you may be wondering, how do I make the most out of attending Dreamforce?
Well, I am happy to tell you that this year, my 4th Dreamforce, I am responsible for building a complete small business experience that includes meet-up areas, networking opportunities and of course educational sessions where Salesforce experts and small businesses will share how they have built success.
To maximize your visit, let me tell you about 5 great things you don't want to miss: 
1) Small & Medium Business Keynote: On Wednesday, Hilarie Koplow-McAdams, President of Commercial and Small Business Unit at salesforce.com, will help you understand how emerging businesses are using salesforce.com to fuel their growth. The session will include interviews with a select group of customers, including Buddy Valastro of Carlo's Bakery aka CakeBoss and others.
2) Breakout Sessions: Starting on Tuesday, we have 35+ sessions specifically designed to share best practices for growing your business. Don't miss the Wednesday afternoon Mini-Note: 4 Small Business Leaders Share More than 4 Lessons.
3) Welcome Tour & Meet Ups: Start Dreamforce off right on Tuesday evening by meeting and networking with fellow small business attendees at the Small Business Meet-up area in the Dreamforce Plaza. Then Experience a personalized welcome tour of the Cloud Expo with call-outs of the top areas, booths and must-experience Dreamforce features for small businesses.
4) Success Clinics: Sign up for free customer help. Engage in a 30-minute, 1:1 clinic with a Salesforce support expert to help you answer your top questions about using Salesforce. Register for a variety of topics ranging from Configuration and Data Management, to Sales and Marketing. Be sure to register early. Clinics fill up fast.
5) Networking and Parties: What good is Dreamforce without networking and parties? We want you to learn from others and have fun so we are offering both. Register for Dreamforce and check out the Small Business Experience Chatter Group to network with other small businesses and learn about the location and entry details for our special Small Business Party on Tuesday night.
Wow, lucky for me we have a lot of successful small businesses such as Trunk Club, Wheelz, Bespoke Collection, eBioScience, Voices.com, Fireclay Tile, Bonobos, Boloco, and thousands of others, who want to share their stories and help you learn from their mistakes. I guess you know by now that my plate is full between now and September 18th. I can't wait to hear what you think about all this new content.
If you aren't already registered for Dreamforce, I hope you feel this content is compelling enough to attend. Once you are registered don't miss out on the Dreamforce Chatter App. Look me up in here and let me know your thoughts or contact me on Twitter @triciagellman.