Tips to Get the Most Out of the Dreamforce Developer Experience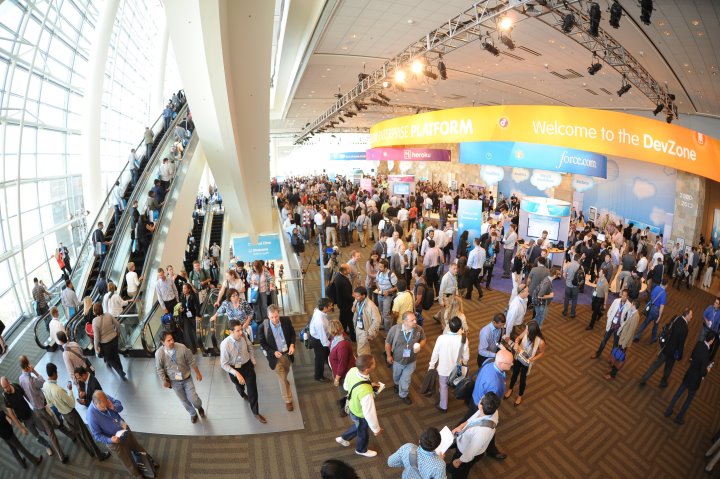 This year will be my fourth Dreamforce. Every year I step back at about this time, when we are in the heart of event preparation, and reflect on just how much amazing content there is for developers. This year, we have nearly 200 sessions, and an incredible developer zone planned. In fact, developers are taking over the entire second floor of Moscone West. In a word, the developer experience at Dreamforce is going to be huge.

But there is a challenge. With all of this amazing content, how do you get the most out of Dreamforce?

My strategy is twofold: "plan ahead, and plan around." 


Plan Ahead
I do a lot of hiking. I've trekked the Inca Trail in Peru, climbed Mt Whitney here in California, and am heading off to Everest Base Camp in Nepal two days after Dreamforce. One thing that I have learnt is that the more you plan ahead, the better your experience is. This is no different from attending Dreamforce. Before you arrive, plan ahead by doing the following:

1. Spend quality time with Agenda Builder

This year the Agenda Builder site has been completely redesigned to be mobile friendly and is a great resource for selecting the sessions you want to  attend. Many of the most popular sessions fill up very quickly. I suggest you sign up early. The sooner you reserve your space, the better we can try and plan for repeat sessions, or move a very popular session into a bigger room.  You can access the Agenda Builder by logging into the Dreamforce app.

Once logged in, If you are looking for developer sessions, the easiest way is to use the following two filters in Agenda Builder:

Role = Developer
Location = Moscone Center West

With these filters in place, you can target the specific sessions you want by using the keywords and themes.

2. Go for a 30/70 mix
Whenever I attend a conference I try and select about 30% of the sessions I attend to cover something I already know, but want to learn more. For these sessions, I look for topics that give me lessons learnt, in-the-trenches gotchas, and an opportunity to network with community members with whom I can continue the conversation long after the event has finished. The #askforce hashtag is a great example of how salesforce developers are helping each other beyond Dreamforce. Why not #askforce what session they are looking forward to the most?

Here are a few of the sessions I already have my agenda builder 30 list:


Introduction to the Salesforce Platform: Tuesday 1:00pm - 2:00pm, Moscone West 2022  
7 Habits of Highly Efficient Visualforce Pages: Tuesday: 1:00 PM - 2:00 PM | Moscone Center West, 2008
First Look at a Newly Announced Salesforce Platform Technology:These are great sessions to sign up for early. The specific technology will be announced as part of one of the keynotes.
The other 70% of sessions I try to attend are ones that challenge what I 'typically' do, offer insight into what I want to do, and give me a glimpse of where the industry is going. For example, mobile app development is incredibly popular with tens of millions of users now using apps everyday to connect with friends, or get their jobs done.

Often as a developer, I want to learn more about a specific technology, but I might be hesitant to add it to my agenda because I don't have the specific technical background, my employer doesn't use technology X, and so on.  I strongly enourage you to add some sessions to your '70' mix based on what you want to do. The amazing thing about the salesforce.com platform is that it is the only platform designed for the social and mobile-first world we live in, and it is built to enable anyone to create these next generation apps. Attending one of these new technology sessions will give you the jumpstart you need to build amazing apps.

Here are a few of the sessions I already have my agenda builder 70 list:


Building Java Apps On Heroku: Thursday, 9:00am - 10:00am Moscone West 2002/2004  
Building Awesome Products: Design-Minded Development At Do: Thursday, September 20th: 10:30 AM - 11:30 AM Moscone Center West, 2006
Lessons Learned from Building an Enterprise iOS Application: Wednesday: 1:30 PM - 2:30 PM | Moscone Center West, 2022
How We Built Touch - A Behind-The-Scenes Look: Thursday: 10:30 AM - 11:30 AM | Moscone Center West, 2024
Next Generation Debugging with the Developer Console & Tooling API: Thursday: 10:30 AM - 11:30 AM | Moscone Center West, 2009/2011
3. Start networking now
Don't wait until Dreamforce to start networking with other developers: build your social network now, follow MVPs and elicit their advice for sessions, afterparties, and new technology to watch, and of course, join the conversation on Chatter for sessions via the Dreamforce app.

You can find me on twitter, and always ask me what sessions I recommend, but why not join the force.com and heroku facebook pages, pose a question to #askforce, join a tweetup, co-share cabs from the airport to help the environment, and much more. Pre-event networking is one of the best ways to make the most out of your time while you are at Dreamforce.


Plan Around
Aside from hiking, I play a lot of guitar - mostly blues, and blues/rock. One of the things I have learned is that if you just stick the standard forms like the blue scale, you only get half of the experience - great guitarists learn to play around the notes to make something unique. You can do the same thing at Dreamforce.

No matter how much preparation you have done ahead of time, there is always more to see, and do. When planning your days, make sure you leave enough time to drop in on sessions that catch your eye, allow the amazing keynotes to shape your day, and just take some time to soak up the vibe. Like a guitarist who plays around the notes, planning around sessions is part of making your event experience unique.

1. Don't just attend structured sessions

There is always lots of hands on activities in the developer zone outside of structured sessions. You might want to sit in on some of the theater sessions we have planned, check out the agenda wall and sit in on some unconference sessions (maybe even sign up to give a session yourself?), get your code on with mini-hacks, or work with a specialist for some one-on-one code consulting. I always try to leave some of my afternoon free to hang out at the devzone and soak up the vibe. I have had some of the best conversations with fellow attendees the late afternoon when people are relaxing, recharging and swapping stories. Besides, you might hear about a great party that night sponsored by some of our amazing partners.

2. Attend the Platform Keynote and Developer Keynote
The Platform Keynote and Developer keynote give you a great overview of what is happening on the Salesforce Platform. I always make sure I attend both of these sessions, and keep my agenda a bit more flexible in the afternoons after these keynotes - there is always new technology announcements and follow up sessions to learn more.

3. Refuel-refuel-refuel
Days at Dreamforce are full-on! Most of the event staff is onsite from 7am till 9pm (and then we go out afterwards!). Over the years I have found a few must-go places near the Moscone Center that help me refuel and make the most of the conference. I thought that I would share them here:


Starbucks on 3rd St.:For some reason, this Starbucks is typically less crowded than some of the other nearby stores. I typically drop in here for a Chai once or twice a day.
Jamba Juice: Great place to get a healthy smoothie especially if you need a break from the conference for 10 minutes and like to get some fresh air and walk a few short blocks
The Grove : Every day of Dreamforce I start with a glass of freshly squeezed OJ from The Grove. I swear by it to keep me going through the entire event, and avoid getting run down.

4. Bring a refillable water bottle
The last refuel tip I have is to bring your own refillable water bottle. This way you can fill it up at the water stations throughout the conference without using the disposable cups. Not only do you cut down on waste, but you can take your water to go and sip it throughout the sessions. And, as an added bonus, staying hydrated during the day makes for a better morning the next day if you happen to enjoy one of the after parties at night.


That's it. Hopefully these tips will help you make the most out of Dreamforce this year. It is going to be an amazing event. And if you see me at Starbucks, or The Grove, make sure you say hi. I'd love to hear how you make Dreamforce the best yet!
If that is not enough to get you excited, we have special developer pricing of $699.00 if you use the promotion code: MKDDEVLP699
See you at the DevZone!