How to Dress to Get the Job Done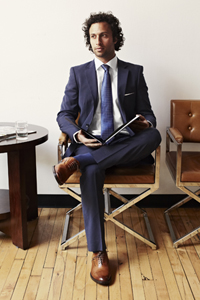 Hey fellas, need to look extra spiffy for a job interview? Business lunch? Company event? The salesforce.com #dreamjob team recently called the fashion authorities at Trunk Club for advice to help our male employees (current and prospective) dress for success.
(Ladies -- to read the women's style tips please check out our post "How to Dress For Success")
The first rule of Trunk Club? DO talk about Trunk Club. This online company is all about style that works and service that delivers. Trunk Club stocks an enormous variety of high-end men's wear from all the best brands for all of your important occasions. And you don't even have to shop for your dapper duds. Trunk Club pairs you up with your own wardrobe stylist who picks out all your clothes and pulls it all together for you. You'll be dressed to the nines, tens – even elevens. All with free shipping and no fees, too.  
(Full dis-clothes-ure: Trunk Club is a salesforce.com client, which we think makes this post all the more fitting. In fact, Jason Smith, VP of Product for Trunk Club, shared these impeccably dressed looks and tips that will make every man's wardrobe a winner.)
Job Interview

"Even in the age of more dressed-down and casual office  environments, I still think a man should wear a suit to a job interview," says Jason. "I see it as a sign of respect and I feel it helps to mark the importance and significance of the conversation that is about to be had. Things get labeled as "classics" for a reason: They stand the test of time and you don't really have to monkey with them. They are great as they are. That's how I feel about the navy suit in this situation.
TIP: "Get your suit tailored. While Theory makes a great off-the-rack suit that fits exceptionally well, it is still worth the extra $25-$75 to have your tailor make some final adjustments so that it fits you like a glove. A good tailor can make a $500 off-the-rack suit appear like it was an expensive custom number made just for you at the foot of the Italian Alps."
Theory Blazer 
Theory Slacks
Eton White Dress Shirt 
Eton Trunk Club Tie 
Fratelli Rossetti Shoes 
Business Lunch
"Business lunches can be the vehicle for an unlimited number of conversations," says Jason. "New career opportunities, negotiations, partnerships, performance reviews. Regardless of the topic, it is the dialogue that is most important in 'business lunch' situations. The clothes should not be a distraction to the dialogue. Therefore, I would want to focus more on fit, comfort and togetherness, rather than eye-catching colors or statement pieces. Who knows where the conversation will take you or how long it will last? By focusing on fit and comfort, you will be ready for anything. Also, the fit of the clothing can go a long way in helping to present yourself in a positive light: leaner, taller, and more put together. I would recommend an Oxford blazer (LBM), a solid button-down oxford (New England Shirt Company), and jeans or khakis depending on what you are more comfortable in and which one feels more like you." 
TIP:  "Become accustomed to wearing a blazer," adds Jason. "It has a magical ability to make you feel stronger, confident and more energetic. I call it the 'bullet-proof effect.' Trust me on this: Incorporate a great-fitting navy hopsack blazer into your wardrobe immediately. You can thank me later." 
New England Shirt Company Oxford Shirt 
LBM Oxford Blazer 
Company Event


"Energy is key at company events," says Jason. "And this is where I think you want to incorporate a little energy into the outfit. Events are great opportunities for networking and meeting new people inside and outside of the organization. I would style an outfit to have one statement piece as a means of getting noticed, being remembered or starting a conversation. Easiest way to do this is through color. I would recommend either changing up the pants (red Jack Spade Dolan trouser) or the shoes. A colored pant is a bolder move than colored shoes, but both are distinct and on trend with what we are seeing in the marketplace."  
TIP:  "One statement piece per outfit. If you incorporate too many bold pieces into an outfit, then you quickly start to look like a clown. Don't be a Bozo." 
LBM Navy Blazer 
Eton Purple Gingham Shirt 
Jack Spade Dolan Trouser 
Got a style conundrum you need to work your way out of? Post it in the comments and we'll do our best to address your fashion emergency. Learn more about dressing for success at www.trunkclub.com.