Salesforce Chatterbox - File Sharing Goes to Work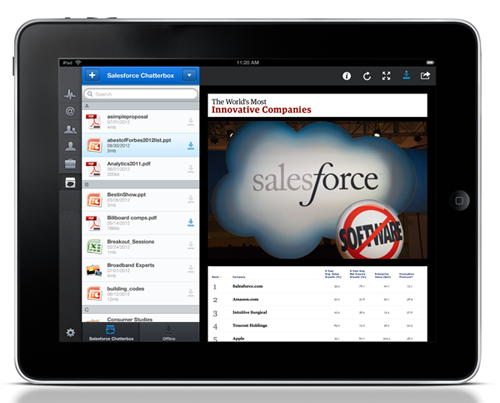 As companies and employees are becoming more social and mobile, they are looking to share business files with the same ease they can post photos and videos on consumer apps like Facebook and Twitter.

In response, we are introducing Salesforce Chatterbox – the first app allowing enterprises to securely connect, collaborate and share files across devices. Salesforce Chatterbox combines the trust of Salesforce and the reach and power of Salesforce Chatter and allows     users to:


Easily share and manage files: Salesforce Chatterbox is the first file sharing solution designed for the enterprise that will allow users to easily share, collaborate on and manage files with anyone in their company. Employees will be able to share and manage their files in Chatter as easily as they share photos with their friends and family on Facebook.
Access files from mobile devices: Salesforce Chatterbox will provide users with real-time sync across devices, from desktops to smartphones to tablets, giving a seamless end-to-end user experience to access, collaborate on and share files. Employees will be able to securely and easily access files while on the road, in customer offices or from wherever they need to connect.
Collaborate in context of business: For the first time, enterprises will be able to empower employees to share their files within the context of business in real-time and right in the place they work. And, by collaborating on files in their Chatter feed, employees will have the right information right at their fingertips when they need it.
Leverage the trust of Salesforce: Built on the proven Salesforce Platform, Salesforce Chatterbox will give enterprises the trust and security they have come to expect from Salesforce. Companies will be able to share and collaborate on confidential files such as contracts, financial reports or product roadmaps with the trust customers have come to love of Salesforce.
Harnesses the power of Chatter: Files will become immediately social through the power of Chatter. Files will be posted to the Chatter feed as soon as they are saved and shared via Salesforce Chatterbox.
For the first time ever, companies will be able to transform how they collaborate and connect with their customers, partners and employees around files directly in Salesforce Chatter, the #1 enterprise social network.
Chatterbox will be available in pilot in the first half of 2013.
Stay up to date with Chatter announcements and tips on Facebook and Twitter.