Announcing the Dreamforce '12 Music Festival Lineup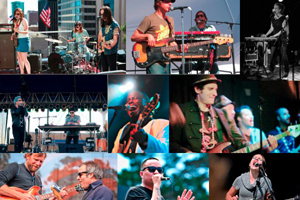 We told you that Dreamforce is more like a festival.  Well, it's true.
We are ridiculously excited to announce the addition of thirteen San Francisco-based artists and bands to the Dreamforce 2012 lineup!
It's a no brainer.  Escape to Dreamforce Plaza on Howard Street for four beautiful days in the heart of San Francisco with outstanding live music. It's gonna be awesome. 
We actually are so excited about this, that we're offering passes to the music festival for free! Get your free pass now to come hang out with us September 18-21, 2012 at Moscone Center in San Francisco.  
The Dreamforce 2012 music festival is your opportunity to recharge and enjoy the wonderment of artist discovery. 
Check out tracks from featured artists on our #df12 Spotify playlist. 
Schedule
Tuesday, September 18th
The She's – 10am - 12pm
"This is one of the best bands in town, period. Their songwriting, their vocal arrangements, their tight playing and their polished yet completely unspoiled, cheery stage presence put them head and shoulders above volumes of their drinking-age peers." -The Bay Bridged


ALO -- 12pm - 1:45pm
Sounds Like This sees ALO operating with fresh verve and vitality, their always-kaleidoscopic funk pop 'n roll aglow with exceptionally ebullient songcraft and deliriously danceable grooves.
Still Flyin' -- 2pm - 3:45pm
Still Flyin' offers a synthy, indie pop sound with strong elements of '80s pop and '70s German rock running through it. The 2012 album by Still Flyin', On a Bedroom Wall, retained this approach and refined it, making for their best album to date. 
Mother Hips -- 4pm - 5:45pm
A recent show preview by The New Yorker described the veteran Bay Area quartet as "a romping strain of countrified psychedelic power pop laced with traces of Merle Haggard, Barry Gibb, and the Eagles.
The Limousines -- 6:15pm - 8pm [Full Conference Attendees Only]
With their sticky and whimsical tunes about wasting time and living too lazy for love, the Limousines can't wait to dance with you while you sing along with songs about anything and everything from desperate meetings with psychiatrists to self gratifying internet voyeurism and all the trappings of this fast paced modern life in between. 

Wednesday, September 19th
Quinn Deveaux -- 11am - 12:45pm
Quinn DeVeaux and The Blue Beat Review is the dance floor between the sweet old times and new hard times. Its' New Orleans soul and early blues with the depth of cracked hands combined with contagious dance rhythm.
Loquat -- 1pm - 2:45pm
The new Loquat album packs several festival-ready moments, including the jaunty title track and stargazing single "Time Bending." —San Francisco Chronicle
Jazz Mafia -- 4pm - 5:45pm
Forming in 2003, The Shotgun Wedding Quintet has worked to create an illicit blend of hip hop and jazz that's rooted in tradition, but is ever looking forward. This 4-piece ensemble creates the sound of a 10-piece group that is equal parts big-band and boom-bap, paying homage to the art of improvisation both lyrically and instrumentally.
Thursday, September 20th
Billy and Dolly – 10am - 11:45pm
Billy and Dolly bring their vocals to the forefront, delivering heartfelt tales and arresting stories of love, loss, and everything in between. 
Sean Tabor Band -- 12pm - 1:45pm
Sean Tabor Band broke into the live music scene in 2011 with their debut album, "CardHouse." Having fashioned a record brimming with ultra-catchy gems combined with a powerhouse band, "CardHouse' melds Sean Tabor's compositions with energetic layers of soundscape. There's Rock, there's Pop, there's Country... and there's Sean Tabor Band.
My Peoples -- 2pm - 3:45pm
MY PEOPLES blends styles of Reggae, Rock, and Hip-hop, the 4th release of their self-titled EP concentrates on their new found sound of "Urban Aggressive Aloha."

 
Friday, September 21st
Strong Like Bull – 10:00am - 11:45am
Strong Like Bull brings your favorite rock, pop and hipster-tunes. Their eclectic repertoire includes Journey, The Killers, Kings of Leon, MGMT, Foo Fighters, The Strokes, Franz Ferdinand, Guns N' Roses, Silversun Pickups, Velvet Revolver, Rage Against the Machine, Radiohead, Bon Jovi and of course, Neil Diamond.
Release the Sunbird – 1:00pm - 1:45pm
Release the Sunbird's Come Back to Us is glowing from the inside out, the edges of the songs blurring in hazy focus, lifted by beautiful harmonies, meditative phrase repetition and lilting melodies. Come Back to Us is sun-kissed, joyful and simply one of the most lovely albums you will hear this year. 
Feet don't fail me now...
When you are exhausted from grooving on Dreamforce Plaza, head into Moscone and catch the best of the cloud computing event of the year – for free! Come and see how companies are growing their business by becoming Social Enterprises.  Hear inspiring keynotes from Marc Benioff, General Colin Powell, Sir Richard Branson, Tony Robbins, and more.  Experience 1000+ cloud solutions in the Cloud Expo.  Network with over 50,000 innovators across all industries. Register by 9/17 and you'll be automatically entered to win two tickets to the Dreamforce Gala featuring the Red Hot Chili Peppers on September 19.
We're counting down the minutes until we see you at Dreamforce.
Remember, the only way to 'get down' on Dreamforce Plaza is to register for your free Dreamforce Keynote and Expo pass now.