Introducing Work.com — Transforming HR for the Social Era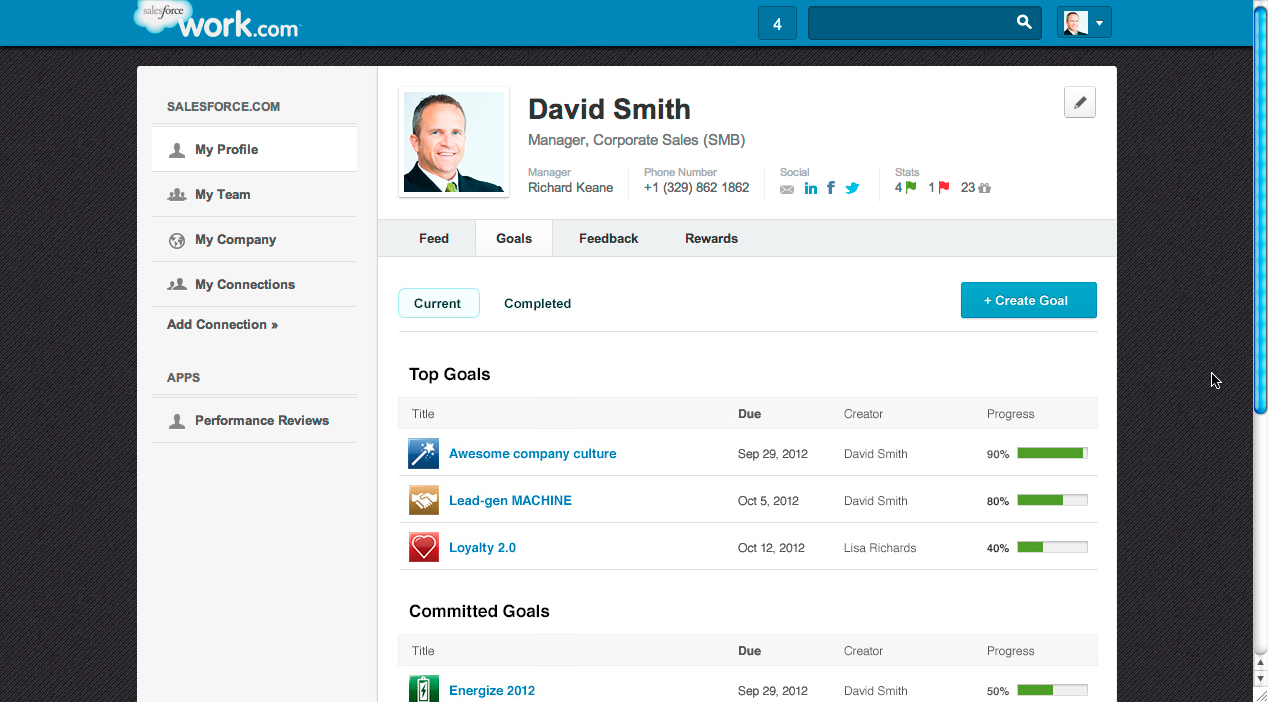 We're excited today to unveil Work.com — a social performance management platform that helps companies align, motivate, and drive performance.
Away from the office, Facebook and other social apps have transformed the way we connect and share information. Yet the systems most companies use to manage work were designed for the hierarchical, siloed, slow-moving workplace of the past. They automate needless bureaucracy and painful reviews instead of improving productivity and results. And they often feel like work on top of work – completely disconnected from employees' daily jobs.
"The way we work has changed, but the technology most companies use to manage work is painfully out of date," said John Wookey, EVP of Social Applications, salesforce.com. "Work.com empowers teams to work better together by delivering the tools they need to stay aligned and motivated — and integrating them with the systems where people actually work."
Work.com helps companies deliver performance in three key areas:
Alignment — Today's workplace is more fragmented than ever. We work remotely and virtually and have people spread across the globe. At the same time, the pace of business is accelerating, placing a premium on getting the right information to the right people as quickly and efficiently as possible. In fact, a recent study by Savo Group found that 40 percent of businesses suffer from poor alignment of messaging, sales tools, and seller skills. With Work.com, teams can manage in real-time, drive alignment with social goals, and solicit and receive ongoing feedback and coaching.
Motivation — A recent study from Market Tools found that 76 percent of workers are unsatisfied with the amount of recognition they receive at work, while 77 percent said they would work harder if their efforts were better recognized. With Work.com, enterprises can create a culture of meaningful recognition at work. Now people can recognize colleagues with custom badges that reflect company culture and values. The recognition a person receives becomes part of their social profile in Salesforce, allowing people to build their reputation and colleagues to identify experts.
Performance — Performance reviews are among the most hated processes in business. A study by Reuters found that 80 percent of workers are dissatisfied with their performance reviews and would like to see them better reflect their real work. Work.com enables painless, productive reviews that actually improve performance by capturing all the achievements, recognition, and feedback a person receives and calibrate performance across teams.
Bridging the Gap Between People Management and the Apps Where People Work 
Now managers can drive alignment, motivation and performance directly from within Salesforce.
People can see colleagues' goals, feedback and recognition inside Chatter or recognize great work from within a Sales Cloud opportunity record. 
With Work.com sales managers can onboard new reps more effectively and improve the productivity of their teams. 
Service teams can reduce agent churn and absenteeism to improve productivity and customer satisfaction, while marketers can track progress of their campaigns and collaborate more effectively with sales. 
Work.com employee social profiles reflect their expertise, goals and performance right inside Chatter, helping them build their reputation.
"As skills become more and more scarce, aligning, motivating and retaining people within the walls of an enterprise is something all business professionals need to focus on—not just HR," said noted HCM analyst Jason Averbook, CEO of Knowledge Infusion. "Work.com is designed to enable that process as we continue to define and understand the future of work."
Partnership with Workday 
Today salesforce.com announced a partnership with Workday that enables seamless integration between Workday HCM and Work.com. With this integration, Workday HCM will deliver worker data including organizational relationships into Work.com's social performance management layer, empowering employees to manage performance through social goals, continuous feedback and recognition. 
"Work.com's social performance management platform combined with Workday's unified talent and HR solution answers the modern organization's need for a system of engagement – one that aligns and motivates employees to deliver better business results." said Amy Wilson, vice president of Workday HCM, Workday. 
Recognizing Great Work with Amazon Rewards
Work.com users can reward great performance with Amazon.com gift cards directly from within Work.com. Recipients collect points awarded by managers and colleagues that can later be redeemed from the world's largest online marketplace. 
Hundreds of High-Performing Companies Work Better, Together

Facebook, LivingSocial, Hubspot, Virgin America, 1-800 Flowers and hundreds of companies are already transformed the way they manage people using Work.com.
"We believe real-time feedback, coaching and recognition are essential to improving the productivity of our sales reps and the continued growth of our business" said Mark Roberge, SVP of Sales and Services, HubSpot. "Work.com helps our sales managers and reps identify areas of improvement and work toward turning them into strengths."
"Salesforce.com is providing us with tools to help evolve and enhance our performance-driven culture at 1-800 Flowers," said Maureen Paradine, SVP of HR, 1-800 Flowers. "Being able to recognize and reward our people in the moment for doing great work keeps them motivated to achieve their goals and deliver great results." 
Work.com is scheduled to be available in Calendar Q4 of this year. Pricing and packaging will be announced then. Salesforce Rypple is currently available today. Pricing starts at $5 USD per user per month.