5 Can't Miss Sales Apps on the AppExchange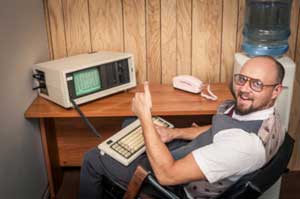 If you're not rocking apps for business you might be behind the times.  But, vintage is cool right?  Okay, well your vintage cord blazer in 70's mustard yellow is pretty cool.  Your reliance on a fax machine is not so cool. 
But, don't worry AppExchange is here to help.  We've got all the apps you need to bring your work into the modern era.  The first installment of our five part series on can't miss apps:
5 can't miss apps for Sales
Get ready to add some sizzle to your sales cycle and close more deals.
 Nothing says "Welcome to 1990" like the fax.  The good news is it's easy to transcend the fax with DocuSign.  DocuSign makes it simple to collect signatures and information, anytime, anywhere and on any device.  So, get ready to close deals faster (and delight your customers).
Complete and sign documents error free in minutes

Eliminate the costs of paper, ink, printing and faxing

Safe, secure and legally binding
Send your first 100 documents for signature for FREE
Is your sales team creating quotes in Excel?  Chasing contracts through legal?  Imagine a world where the entire quote to order phase of your sales process could be completed, natively inside Salesforce.  Now imagine a world where you can do that today by installing Apttus.
Create high quality customer facing quotes with ease

Approve, negotiate, finalize and sign contracts all within Salesforce

Use chatter to collaborate throughout the process
Like Xbox?  Flag football?  Candyland?  If "yes" to any of these then you've got the spirit of a competitor. Gamification apps, like Nitro, harness that energy and help you apply it at work.  Supercharge your team by adding challenges, levels, achievements and rewards to Salesforce.
Motivate  your sales team to increase sales

Drive adoption of Salesforce to improve data quality

Automate your motivation program so you can focus on your business
30 day FREE trial
Ever get the feeling you're not on the same page as everyone else—in a bad way?  Sales Coach helps you make sure this doesn't happen by aggregating all the sales tools your team needs in one place.  Plus, it's FREE and used by every sales person at salesforce.com.
Assemble all relevant sales materials in one place

Organize activities and content based on the opportunity stage

Easy, point-and-click setup
FREE—yeah that's right totally free
Let's face it, using Excel to calculate your compensation is tedious and inefficient.  But, what other choice do you have?  Enter: Xactly Incent.  Xactly provides a robust sales performance management platform that enables easy management of complex enterprise sales compensation processes.
Hassle free, web based compensation management

Commission estimator that leverages your Salesforce data

Analytics that show how compensation is driving behavior and affecting revenue
Keep in mind this is just five of hundreds of amazing Sales apps on AppExchange and many of our apps are FREE.  We've also got great apps for every business need.  Try one today.  Next installment: 5 Can't Miss Apps for Marketing or check out our previous post 5 Can't Miss Apps for Small Business.