Top 10 Service Cloud Presentations from Dreamforce '12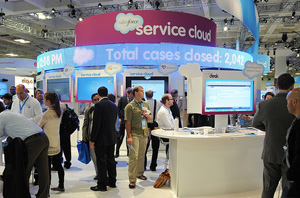 Last month's Dreamforce event featured more Service-related breakout sessions - upwards of 90 in all - than any previous year.  Session topics ranged from improving agent productivity to self-service communities to an overview of the Service Cloud product roadmap.  Additionally, we were honored to be joined by leading analysts Michael Maoz of Gartner Research and Kate Leggett from Forrester research.

Needless to say, there simply wasn't enough hours in the day to catch them all, so we've put together a list highlighting ten can't miss Service sessions:
1. Service Cloud Keynote
See how some of the world's most progressive companies are building great customer connections by delivering outstanding service at every point of the customer interaction.  Learn first-hand from current customers Nissan and Bonobos as they share their story about how they're revolutionizing the world of customer service by connecting their employees, customers, and products through the Service Cloud.

2. The Next Generation Multi-Channel Agent Console
Your agents deal with multiple windows, multiple channels, and multiple applications.  The inefficiencies of such "swivel-chair" integrations reach beyond just customer frustration.  In this session, you'll hear from customers Deloitte and YP to learn how the Service Cloud delivers an industry-leading, multi-channel agent console that is intuitive, configurable, and built from the ground up for high volume case management.

3. Self Service, The Ultimate Experience
Learn how to create the ultimate self-service experience for your customers. You will see how Salesforce customers Marketo and Tableau Software have leveraged self service capabilities to create great connections with their customers, overcome scaling challenges, and reduce costs by deflecting calls from the contact center.  

4. CTI in the Cloud – The New World of Cloud Based Telephony
Even in our increasingly social world, the telephone is still the largest channel for customer service. Join Google and Lumesse to learn how Open CTI allows you to create interactive, customizable, web-based telephony integrations that are 100% cloud-based.

5. Driving Agent Productivity in the Contact Center 
Experience the future today with the new Service Cloud Console and the next generation of telephony integration.  See live production examples of partner and customer applications built using the Service Cloud. You'll learn how to present all of the critical customer information front and center for your agents, provide unique context for each activity, and minimize clicks.

6. Meet the Service Cloud Product Experts
A panel of Salesforce Service Cloud experts participate in an open forum to answer the audience's product questions and discuss future plans for Service Cloud.



7. ICMI Selecting the Right Service Metrics for your Center
The International Customer Management Institute (ICMI) presents which contact center metrics have the greatest impact on improving customer experience for your organization. Learn how to use the information you gather to focus on where your organization should spend more time– and where to stop wasting time –creating an environment of continuous improvement, employee engagement, and customer delight.

8. Delivering Superior Customer Service with Web Chat
Web chat is growing in popularity as a way to engage with customers on the web. Learn how Salesforce Live Agent can be used to create compelling service experiences in a cost-effective way, allowing customers seamlessly escalate issues from their self-service portal.  Customers Activision Blizzard and Facebook share their story.



9. Service is the New Marketing 
Best Practices for Social Support: Service has gone public on Facebook and Twitter, and shapes how all customers perceive your brand. Service is the new marketing. Join Symantec and Deloitte to learn how to leverage this new trend to your advantage and avoid social service pitfalls. Understand how you can make the voice of the customer central to growing your business.




10. Service Cloud: Using Knowledge-Centered Support (KCS) with Salesforce Knowledge
Customers want answers to their problems, on the phone, online, and in social media. Knowledge-Centered Support methodology is critical for delivering on this promise. Join us to learn how this methodology lets you harness information that lives within your organization, your customer, and partner community. See how our customers use KCS with the Service Cloud to dramatically increase customer satisfaction and agent productivity, all while reducing support costs.



For access to all the amazing content delivered at Dreamforce this year, be sure to check out our video library here.