How to Build a Live Contact Center in 60 Days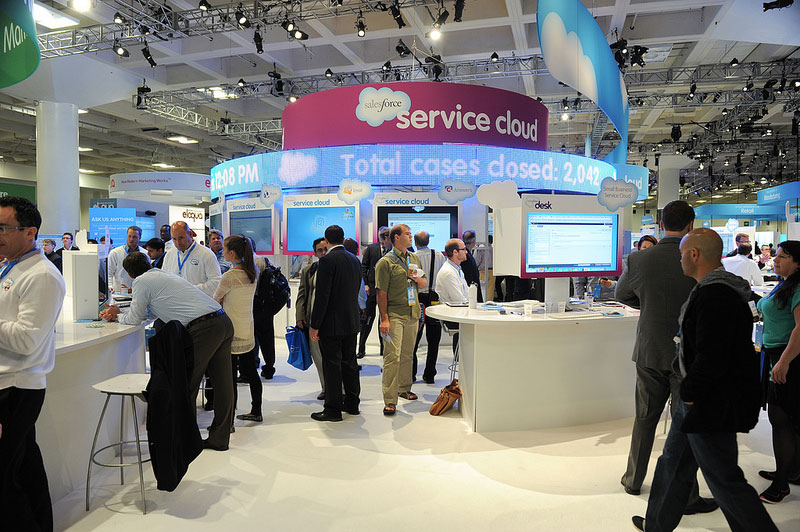 During Dreamforce the salesforce.com product teams get the incredible opportunity to showcase latest and best features of their products. So as our Service Cloud predecessors had done the previous two years, we decided to build a live contact center in order to demonstrate the power of our product.  Because of the Service Cloud's rapid pace of innovation, in the single year since Dreamforce 2011, we had exciting new enhancements to show off.

The purpose of the live contact center was twofold: to provide live support to all 90,000 Dreamforce attendees all while demonstrating how the solution actually works. Since the call center was located in the heart of the Expo grounds - alongside Salesforce's other product offerings - prospects and customers could walk through, interact with our agents, and watch as inquiries were responded to in real time.

Planning started just two months before Dreamforce when several members of the Service Cloud team met to discuss how to showcase the power of our solution to the 90,000 expected event attendees.  This was our chance to demonstrate why 17,000 customers have already chosen the Service Cloud and prove the product's ability to enable companies to deliver superior service across both traditional channels like phone and email or on social media - all in a single agent console.

There were a few critical steps to consider: 


1. Designing the physical infrastructure of the contact center.  This encompassed everything from monitor size to total square footage.


2. Determining which channels we would support - amazingly, two new channels had been integrated into the solution since Dreamforce 2011 (SMS and Chatter Answers). So this year, attendees had the ability to contact event support via email, phone, Twitter, Facebook, SMS, Chatter Answers, Web Chat, Chatter, or search the public Knowledge Base.  Each channel has its own Product Manager (whose job is to develop and innovate the feature), so we tapped each to implement his/her product channel into the Dreamforce attendee org.

3.  Migrating attendee information.  With the help of Service Cloud solution engineers, we were able to import all 90,000 attendee records into the org the evening before Dreamforce began (to ensure we had the freshest information possible).  The attendee profile provided a 360 degree view of the person: basic contact information, company information, their photo, and all their session registrations so our agents can easily guide them to their next commitment if needed.

4. Building a custom Knowledge Base. The agents relied on a Knowledge Base of 1000+ articles to find the right answer, which my teammate and I built based on last year's FAQs.  As unique and unpredictable issues arose during the event (such as WiFi issues), I added articles to the Knowledge Base in real time so agents were armed with the latest help information.

5. Publicizing the support channels.  To ensure attendees actually leveraged our resource, we posted the nine channels on the Dreamforce website, the mobile app, and in the paper handbook distributed to every attendee.

6. Dry Runs. We performed several dry runs prior to the event to ensure everything was working smoothly.  Pizza, baked goods, and beer were key elements in making these practice runs happen!

As my team and I walked through the Contact Center last week, it was hard to imagine this was just a figment of our imagination two months earlier.  Like any project, there were moments where I would have happily accepted a time extension, but we focused, worked hard, and created a successful resource that hopefully helped thousands of people last week.  Support organizations can spend millions of dollars and many months to build what we built in just 60 days using our own technology - but this experience taught me it doesn't have to be this way.