Salesforce.com Ranks High On LinkedIn's List of Most Desirable Employers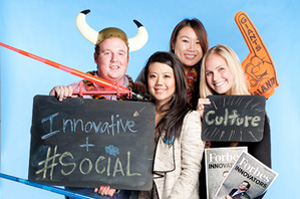 Turns out 13 can be a lucky number. LinkedIn recently revealed its list of the 100 most sought-after employers, ranking salesforce.com #13 in the world and #5 in the U.S. LinkedIn identified the companies based on billions of interactions from its more than 175 million users.
What impact do these rankings have on businesses and jobseekers? "For companies, this affects how easily they can recruit, and for employees it's tied to your professional reputation," wrote Michael Li, LinkedIn's senior manager of business analytics, in a blog post announcing the list.
salesforce.com is in excellent company. The global list of top 20 in-demand employers also includes Nike (#12), Procter & Gamble (#8) and Google (#1).
"salesforce.com leverages the amazing power of social networks to find the best and the brightest talent in the industry," said Monika Fahlbusch, SVP, Global Employee Success. "Not only is this latest ranking a huge boost for our recruiting team but it reinforces to all of our current employees why they are here at salesforce.com – the world's most innovative company as named by Forbes Magazine."
Are you one of salesforce.com's nearly 70,000 followers on LinkedIn? Learn about the company's culture, products, dream careers and more at www.linkedin.com/company/salesforce.
infographic courtesy of LinkedIn. Please go here to see the full version.