Live Stream: Watch Cloudforce New York feat. Estée Lauder, Toyota and GE Capital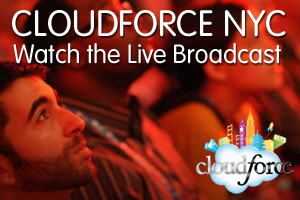 The largest cloud computing event on the East Coast -- Cloudforce New York City -- is broadcasting live from New York's Javits Center this Friday, October 19, 2012. Tune in to watch new product demos and announcements, and to learn how salesforce.com customers and partners are transforming into socially connected enterprises.
The "Business is Social" keynote with salesforce.com CEO Marc Benioff and special guests kicks off at 10:00 a.m. EDT. The keynote will feature business leaders who are helping to transform their industries:
Tune in early for the Friday morning pre-show hosted by Salesforce.com's Peter Coffee.  Starting at 9:30 a.m. EDT, Coffee will talk with leaders from Square, Teach for America, Chase, and more.
Watch today: http://salesforce.com/live
Pre-show line up:
Davies Office Refurbishing:  Mike Nguyen, CTO
Legg Mason Asset Management: Carol Zelenz, Director of Strategic Initiatives Square: Sarah Friar, CFO
Teach for America: Josh Griggs, Chief Administrative Officer
Chase: Bianca Buckridee, Social Media Operations Manager
Prudential: Larry Harris, Director of CRM