Why You Can't Afford to Miss Cloudforce New York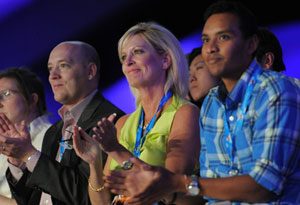 We're taking the best of Dreamforce on the road!  First stop: Cloudforce New York on Friday, October 19th.  Here are a few reasons why you can't afford to miss this free event:
1. Opportunity to pick up new skills
Learn about the hottest trends and pick up new skills in 31+ breakout sessions for every role, including sales, marketing, customer service, IT, developers, administrators, and HR.
2. Amazing networking options
Cloudforce New York is your opportunity to network with 6,000+ peers and test drive new solutions in the cloud expo.  The community is ready to share their knowledge with you.
3. Inspiring keynotes from industry leaders
Salesforce.com CEO Marc Benioff will kick off the day with special guests, including Toyota, GE Capital, Comcast, Thomson Reuters, Honeywell, and Estee Lauder. Don't miss the "Business is Social Keynote 10:00 a.m. – 12:00 p.m.
If you want to know more about the breakout sessions, check out the detailed desciptions below, broken out by industry:
Financial Services:
Business is Social: Financial Services
8:30 a.m. – 9:30 a.m. 
Join us to hear how financial services companies are becoming Social Businesses. Learn how they are building stronger customer connections and transforming both internal and external communication and collaboration. Hear directly from customers about their experiences and learn how they are driving innovation while operating in a highly-regulated environment.
Media and Entertainment
Business is Social: Media & Entertainment
4:00 p.m. – 5:00 p.m. 
Media and Entertainment companies struggle with time to market issues and keeping booking processes current. How would becoming a social business impact these challenges? Come to this session and hear how leading media companies are using collaboration tools like Chatter to help their Sales, Operations, and Editorial teams work closer and more effectively than ever before. 
Government:
Government is Social: Transforming Government for the Social Era
1:00 p.m. – 2:00 p.m.
Governments at every level are transforming to work better than ever for the public and engage citizens wherever they are. Openness, transparency, and collaboration are the order of the day—but so are speed, scalability, and affordability. In this special government track, Vivek Kundra and special guests will highlight some of the leading change agents in government who are leveraging the vision of a social government to fundamentally disrupt bureaucracy to better serve citizens. You'll hear success stories and see examples of how cloud computing is changing and improving the way we communicate, collaborate and serve constituents.
Government Best Practice: A Discussion with Leading Innovators
2:30 p.m. – 3:30 p.m. 
Government innovators are leveraging social and mobile solutions to work more efficiently than ever and employing new approaches to engage citizens and employees in new ways. Join us to learn from these early adopters about how they have implemented innovative cloud-based solutions to transform government.
Government Partner Accelerator Program: Partnering for success with Public Sector
4:00 p.m. – 5:00 p.m. 
Public Sector is one of the fastest growing industry vertical's for Salesforce. Come learn how you can participate in this market place with us. You will learn about the areas of focus for Salesforce's Public sector team and the resources available for partners to succeed in public sector.
Sales:
Sales Cloud: Product Keynote
8:30 a.m. – 9:30 a.m. 
Transform for Growth with the Salesforce Sales Cloud - Increasing sales productivity is the #1 priority in today's selling organizations. Join Sales Cloud EVP Linda Crawford and top industry thought leaders to learn how Sales Cloud customers are transforming their businesses to close more deals and grow sales.
Sales Cloud: Introduction for Beginners
1:00 p.m. – 2:00 p.m.
It's the world's #1 Sales App. In this session you'll learn how your organization can drive sales success with the Sales Cloud, and get everything you need to grow revenue, boost productivity, and gain more visibility into your business. You'll hear from salesforce.com customers, see live product demonstrations, and learn how social, mobile, and other key features are empowering salespeople to work smarter both in the office, and on the move.
Data.com: Product Keynote
1:00 p.m. – 2:00 p.m.
Transform How You Connect with Data.com - Most sales apps are just empty boxes, but not Salesforce's. Data.com, built together with Sales Cloud, brings together the best data with the #1 sales app so you get more insights, more sales opportunities, and cleaner data, all with just a click of a button. Join us to hear from customers about how Data.com has transformed their businesses and to see the future of Data.com including the Social Key.
Sales Cloud: Best Practices and New Features
2:30 p.m. – 3:30 p.m. 
Join us to see live product demos of the latest Sales Cloud features from our Winter '13 release and discover how to achieve more success with Salesforce. Learn how to prospect more effectively with Data.com, improve team collaboration with Chatter, and make smarter decisions with new analytics features. You'll learn best practices from other customers and hear how they've increased sales rep productivity and win rates, and gained better visibility into business performance.
Sales and Marketing BFFs? Of Course It's Possible
2:30 p.m. – 3:30 p.m. 
In this session, you'll hear about how successful organization integrate Sales and Marketing to engage, qualify, and close leads. You'll hear about lead scoring and lead nurturing, tools to give Sales more insight into prospects and easy cross-functional collaboration enabled by Chatter inside Eloqua. See how Marketing is helping Sales crush its numbers.
Account Planning: 3 Keys to Unlocking Revenues from Big Customers
4:00 p.m. – 5:00 p.m. 
Want to turn big customers into bigger customers? Effective account planning is the key. Join Donal Daly (Founder and CEO at The TAS Group) and Doug Chaney (Director, ISV/OEM Partners at salesforce.com) to learn best practices for stratifying accounts, leveraging sales processes, and changing sales culture to value planning. We will share insights to help you visualize 'white space' to expand sales, identify and build strategic relationships, collaborate on business strategy, identify and win new opportunities, increase solution and account penetration, and automate account plans within your Salesforce CRM. Take home actionable knowledge for revisiting and improving your own account planning and customer success processes—and watch your numbers grow.
Developer and IT 
Salesforce Platform: Introduction to Force.com
8:30 a.m. – 9:30 a.m. 
What is Force.com? How does it work? Where do I get started? If you're new to Salesforce, join this jumpstart session to discover how you can use Force.com to enable innovation for your organization by building social, mobile, and real-time apps in the cloud five times faster than traditional software development approaches.
An SAP-Salesforce.com Integration Working Session
8:30 a.m. – 9:30 a.m. 
Today's business world requires adoption of multiple evolving technologies as well as agility and adaptability. But how do you integrate SAP with Salesforce while keeping up with mobile devices, social media, and data compliance?  In this interactive, informative, and fun session, SAP and other applications will be integrated with Salesforce, and you'll test it all—live. You'll also learn how leveraging collective intelligence streamlines integration to make completion of your social enterprise real-time, maintainable, and cost-effective.
Salesforce Platform: Product Keynote
2:30 p.m. – 3:30 p.m. 
Deliver innovation now with the Salesforce Platform. Cloud Platforms are the fastest growing sector in IT and the fastest path to innovation for your enterprise. Join George Hu, salesforce.com COO and Parker Harris, salesforce.com EVP of Technology, along with senior IT business executives from leading organizations as they discuss how they've innovated and delivered amazing social and mobile apps on the Salesforce Platform.
Salesforce Platform for Developers: Build Your 1st Force.com App
4:00 p.m. – 5:00 p.m. 
The Salesforce platform is the leading cloud platform for building social and mobile apps. Within the platform is Force.com which lets you rapidly build custom applications with a point-and-click approach or programmatically with Apex and Visualforce. Join us for an overview of Force.com, and learn how to get started building your first app in the cloud.
Marketing
Marketing Cloud: B2B Social Media - Not As Different As You Think
8:30 a.m. – 9:30 a.m. 
For many B2B organizations, social media has seemed out of reach or undervalued, but that doesn't have to be the case. Social media in its purest form is communication and communication keeps business moving, no matter how it's facilitated. Join us to learn how B2B organizations can use social media to increase awareness, capture customer feedback, generate leads, research target markets, and monitor the competition. 
Marketing Cloud: How To Create a Killer Content Marketing Strategy
1:00 p.m. – 2:00 p.m.
Whether a video, blog post, or status update, content is the engine of the social web: it's what gives brands something to talk about with their communities of customers and prospects. If you produce and share fantastically useful content, your community will be more likely to become customers, remain customers, and send you more customers. Join us to learn how you can start creating content your community freely and gladly bookmarks, downloads, and shares. This session will provide proven tips and examples of brands using great content and best practices to engage their social communities.
The Path To A Killer Online Marketing Strategy
1:00 p.m. – 2:00 p.m. 
In what seems to be a never ending upward trend, today's top businesses are more and more focusing their marketing efforts on the Internet. Effectively executed, an online marketing strategy offers powerful opportunities to reach customers, unparalleled ROI, and clearly measurable results. If you're interested in banking on your online efforts by giving your target audience an engaging experience, you'll definitely want to be at this session by Marketo's CoFounder, Jon Miller.
Marketing Cloud: Generating Leads with Social Media
2:30 p.m. – 3:30 p.m. 
Engagement is essential, but for many companies, driving leads is the ultimate social media goal. Join us to learn practical strategies you can apply without alienating your audience.
Sales and Marketing BFFs? Of Course It's Possible
2:30 p.m. – 3:30 p.m. 
In this session, you'll hear about how successful organization integrate Sales and Marketing to engage, qualify, and close leads. You'll hear about lead scoring and lead nurturing, tools to give Sales more insight into prospects and easy cross-functional collaboration enabled by Chatter inside Eloqua. See how Marketing is helping Sales crush its numbers.
Marketing Cloud: Product Keynote
4:00 p.m. – 5:00 p.m. 
Turn Insight into Action with the New Salesforce Marketing Cloud - Marketing is in the midst of its biggest transformation in 60 years. How are industry leading companies using the Salesforce Marketing Cloud to turn insight into action and produce real business results? Learn how real-time social listening can uncover customer needs, leading to deeper connections. Uncover how the most successful social enterprises are using social applications, publishing, and social advertising to engage consumers in a whole new way. 
Service:
Service Cloud: Product Keynote
1:00 p.m. – 2:00 p.m. 
Transform Customer Service with the Service Cloud – Join us and see how some of the world's most progressive companies are building great customer connections by delivering outstanding service at every point of the customer interaction. Hosted by Tony Kavanagh, VP Service Cloud and Alex Bard, SVP/GM Desk.com, learn about the latest product offerings, see exciting new demonstrations, and learn how Activision and Comcast are revolutionizing the world of customer service. Come and see how companies using Salesforce have a 34% higher customer satisfaction level than companies who don't.
Service Cloud: The Future of Communities, Consoles, and Self-Service
2:30 p.m. – 3:30 p.m. 
Agents spend countless time toggling between systems with archaic interfaces and wasting minutes and even hours searching for information. This leads to poor customer service and high agent turnover. See how Service Cloud delivers an industry leading multichannel agent console that is intuitive, configurable, and built for productivity. Learn how Salesforce customer Enterasys achieved 95% customer satisfaction rates and a 20% improvement in first call resolution by using the Service Cloud to provide multichannel service. Finally join us for a road-map discussion to hear what's next for Service Cloud.
Remedyforce: Next Generation IT Service Management
1:00 p.m. – 2:00 p.m. 
The role of IT support is evolving rapidly as organizations fundamentally change the way they consume and deploy technology. To provide the ultimate collaborative support experience for today's demanding employee, BMC Software and Salesforce.com partnered to build Remedyforce—a contemporary IT Service Desk solution, in the cloud. Join us and discover how the challenges of providing effective support are shaping the capabilities in Remedyforce and how customers are taking advantage of true innovation in IT service management. 
SMB
Small and Medium Business: Product Keynote
4:00 p.m. – 5:00 p.m. 
Grow Your Small or Medium Business with Salesforce – Small and medium businesses are the backbone of the economy and typical salesforce.com small or medium businesses achieve 30% more revenue. How? Salesforce.com allows businesses to scale quickly while connecting to customers anywhere and everywhere. Join Hilarie Koplow-McAdams, President of Commercial and Small Business at salesforce.com as she explores how Yelp is fueling hyper growth, how Square is building a robust ecosystem of vendors and buyers, how Leviev is connecting effectively with customers, and how the Cake Boss of Carlo's Bakery is transforming a neighborhood bakery, all using salesforce.com.
HR:
Work.com: Product Keynote
 8:30 a.m. – 9:30 a.m. 
Work Better, Together with Salesforce Work.com - Discover how high-performing organizations like Facebook and 1-800 Flowers align, motivate, and drive the performance of their people with Work.com. Learn how Work.com's social goals and real-time feedback and coaching empower managers and teams to focus on what's most important: delivering business results. See how enterprises motivate and engage their people with meaningful recognition and rewards.
Salesforce Work.com: Align, Motivate & Drive Performance
2:30 p.m. – 3:30 p.m. 
Social apps like Facebook have transformed the way we connect, share, and engage in our personal lives—what if we could use a similar approach at work to improve performance? Join Maureen Paradine, SVP of HR at 1-800 Flowers, and Brian Christman, VP of HR at Gilt Groupe, as they share how Work.com helps align, motivate, and drive performance in the social era. Discover how to use social goals and real-time coaching to empower teams to focus on what's most important: delivering business results. 

All Roles:
Transformation to the Cloud—Driving innovation in the cloud-enabled enterprise
1:00 p.m. – 2:00 p.m. 
Hear how Accenture works with our clients to transform their business leveraging salesforce.com solutions to improve productivity, effectiveness and scale for future growth—driving real business results.
Salesforce Chatter: Product Keynote
2:30 p.m. – 3:30 p.m. 
Transform Employee Effectiveness with Salesforce Chatter - In today's competitive environment, it's difficult to grow and stay productive. Employees today spend 38% of their time just searching for information! Come hear from top executives about how Chatter, the leader in enterprise collaboration, is helping their organizations drive employee productivity and turn ideas into competitive advantages.
AppExchange: Discover Top Apps on the Leading Enterprise Marketplace
4:00 p.m. – 5:00 p.m. 
Great news: It's easier than you think to unlock crazy cloud value! Get even more out of Salesforce with over 1700 pre-integrated apps on the AppExchange. In this session, we'll uncover some of the hottest solutions on the market today, from email marketing to project management to recruiting apps. You'll return to the office an instant hero.
Salesforce Chatter: ENGAGE - Six Steps to Success with Chatter
4:00 p.m. – 5:00 p.m. 
You know that Chatter can transform your company, and you want to drive engagement across your entire organization. Join us to learn about the Chatter ENGAGE framework, and hear from some of our most successful customers. Get an inside look into top adoption strategies, and hear tips and tricks for execution.