Salesforce Community: Tweets of the Week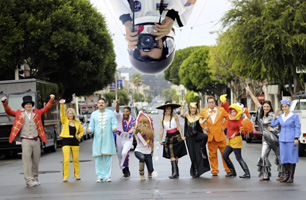 Tweets of the Week is a blog post series highlighting our amazing online community. Our goal is to share the best tips, show you the topics the community was discussing this week, and introduce you to new community members you should be following. 
If you haven't checked it out yet, go try findsf.info to search for Salesforce questions and answers. #askforce

— Daniel Hoechst (@dhoechst) November 1, 2012
Tip of the Week: Salesforce MVP, Nick Hamm, built an amazing site which aggreates all Salesforce content making it even easier to find what you need. It's called FindSF.Info and it's awesome. 
Getting used to the all new "Salesforce for Outlook" Side panel, it's great once you start using it.

— Bartley Doyle (@BartleyDoyle) November 1, 2012
Have you tried out the brand new Salesforce for Outlook Side Panel yet?
This week, we announced our new class of Winter '13 MVPs, welcoming back many existing MVPs for another year and adding some brand new faces to the fold. Some of our favorite reactions below: 
Honored to be a 3rd year recipient of the @salesforce #MVP award and belong to a community of exceptional individuals and contributors.

— Matt Brown (@mattybme) November 2, 2012
Honored to have been selected as a @salesforce MVP for a second year. Amazing program run by/with amazing people. Thanks!

— Javier Gonzalez (@CRMJav) November 2, 2012
@salesforce Thank you!!!!! We feel so lucky & honored to work in such an amazing ecosystem. We love you too! :) @salesforcequeen

— Becky Webster (@BeckyMaeW) November 2, 2012
This evening has been dedicated to @salesforce - Now caught up on certifications and recently accepted into the #MVP Community! WooHoo!

— Joshua Hoskins ☁ (@jhoskins) November 2, 2012
Chatty and Saasy had a good day celebratingwith the new #MVPs #bubbly instagr.am/p/RnpJyki2tk/

— J. Nicole Alford (@salesforceQueen) November 4, 2012

Cloudforce made a stop in Atlanta this week, bringing new ways for people to connect to their customers, live demos from partners and of course, non-stop networking with the best and brightest. 
Panorama of the Cloud Expo at #cloudforce @salesforce twitter.com/prafulgupta/st…

— Praful Gupta (@prafulgupta) November 1, 2012
There are 800,000 developers using the #Salesforce Platform for developing social and mobile applications. #cloudforce

— Chase Crowson (@ccrowson) November 1, 2012
48% annual growth of tablets at workplace; proj 96M enterprise tablets by 2016 #Mobile #cloudforce

— Joanna Duff (@JoannaSpark) November 1, 2012
And how can we forget? Halloween and the SF Giants Victory Parade where SaaSy became his alter-ego SaaSyPanda! 
My buddy @toosaasy was in #PandaMode today! @salesforce #latergram instagr.am/p/Rdt_JdtAgg/

— Arthur Che (@CheDigital) October 31, 2012
Happy Halloween from @salesforce! Who's wearing a costume to work today? yfrog.com/obo4ozp  

— salesforce.com (@salesforce) October 31, 2012
Salesforce Wizard wishes you happy Halloween twitter.com/Kwongerific/st…

— Brian Kwong (@Kwongerific) October 31, 2012
All week, we've also been thinking about our friends on the East Coast who have been affected by Hurricane Sandy. While rebuilding will take weeks, months and in some cases years, it has been heart-warming and inspiring to see members of our community reaching out to each other to offer support, kind words and a helping hand. It's amazing what we can do together. As always, here @salesforce.