Master 1:1 Sales Meetings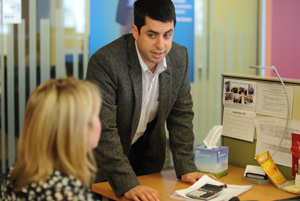 What do Sales Makers want most? Coaching! It's true; a recent study on sales organization performance indicates that while Sales Managers think they are supposed to focus on being a super-seller and giving answers, Sales Makers give the highest marks to Sales Managers who made it a priority to support the efforts and the activities of the Sales Makers and find ways to help them become more successful. In a word, that means: Coaching.
Most Sales Managers would agree that coaching has its place, but very few Sales Managers make room in their schedule for regular, planned, focused coaching sessions with each Sales Maker. Remember, the road to sales mediocrity is paved with good intentions. The key to becoming effective as a sales coach is to move from intention to action, and that is where the discipline of Master 1:1 Sales Meetings comes in. Master 1:1 Sales Meetings are 60 to 90-minute meetings that give Sales Managers face-time with each Sales Maker in order to review progress, discuss strategies, set goals, praise successes, and teach from failures. These private reviews are strictly focused on individual performance, needs and initiatives.
The Master 1:1 Sales Meeting should be conducted on a predictable cadence between Sales Manager and Sales Maker. The format should include praising results, identifying gaps, discussing Key Performance Indicators, exploring open opportunities, wins, and personal goals. The dedicated time allows Sales Managers to develop professional rapport with the Sales Maker, and the private setting facilitates candid conversations for coaching on personal goals, opportunities for improvement, or significant challenges.
In order for the Master 1:1 Sales Meeting to produce the peak performance outcomes that both the Sales Manager and the Sales Maker are hoping to achieve, it is important for the Sales Manager to tailor the coaching session to fit the motivational style and the personal needs and goals of each Sales Maker. This means that the Sales Manager will need to become adept at asking good questions and being a good listener, instead of jumping right into delivering prescriptive directions. It is important for the Sales Maker to feel like the Sales Manager understand how they feel and what they need. This will give the Sales Manager's directions more credibility when the time is right to share them.
Asking questions first helps to create a more collaborative process where the Sales Maker feels valued and supported. It is important that the Sales Manager always begin by asking the Sales Maker how they feel about their progress so far – what is going well and what they need help with. After clarifying and confirming that information, the Sales Manager can move on to sharing their insights about those same issues, after which the Sales Manager and Sales Maker can agree on goals and specific action items to be accomplished before the next meeting. The Master 1:1 Sales Meeting provides the Sales Maker with a consistent level of support to help them solve problems and create growth, while giving the Sales Manager a planned, scheduled opportunity to deliver targeted coaching that will drive peak performance for the entire team.
For more information about Master 1:1 Sales Meetings, or any of the other 9 Disciplines, go here to download your copy of Pathways to Growth: Nine Disciplines to Create Sales Breakthroughs in Turbulent Times, by Tony Robbins and Walter Rogers. Or you can register for the webinar below: