AppExchange All-Star: Tim McDonald's App Picks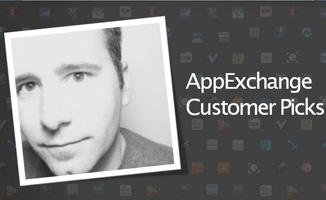 Salesforce customers are using apps to make work easier every day.  Given the power of apps it's only natural that some people develop a special fondness and become full-fledged app experts.  We call these folks "AppExchange All-Stars."
Please welcome Tim McDonald (@mrtimmcdonald) to our AppExchange All-Star community.  Tim is a certified administrator (since 2008) and is often sharing his app expertise in our communities.  He co-founded the Inland Empire salesforce.com User Group and moderates a joint LinkedIn Group that includes the other three Southern California User Groups: Los Angeles, Orange County and San Diego.  We asked him to tell us a little bit about how he uses the AppExchange and share with us some of his favorite apps.  Check 'em out.
"Aside from the obvious benefits of a world-class CRM, I introduced the Salesforce platform to my company to alleviate the grumblings of my users that were frustrated with the poor user experience of the previous system as well as those from sales management that felt hindered from limited visibility to the forecast.  Since implementation, I have been augmenting standard functionality with apps from the AppExchange aimed at providing an even greater user experience.  Here are a few that have made small, but impactful changes over the years:"
Maybe it's because I rely on more social applications, like LinkedIn, for updated contact information, but I was somewhat surprised by the number of requests I was receiving for the ability to export a contact record's information into a vCard format.  There are several available, including the popular Auto vCard by Arrowpointe, but is hard to say "no" to free apps, especially those from Salesforce Labs.  This app is simple, reliable and most importantly it "quieted the masses" which is a huge win for any administrator.
Data quality is a topic that plagues even the best administrator, but luckily there are some great apps like those from RingLead that can do almost everything to prevent it.  However, even clean data changes over time. While a trigger can be written to automate some of these changes, real world situations sometimes stipulate exceptions to the rules built into triggers.  Case in point is the need to update the address fields on a contact record when it changes on the Account.  This great app puts the control into the hands of the administrator (or even the users!) to decide what gets updated and when.
With Chatter enabled across the enterprise, we have seen a significant impact to the collaboration between departments.  For our sales division though, one of the most common questions I received was, "Where should I Chatter?" – referencing the ability to write a Chatter post from the user's profile or on an account, contact or opportunity record.  The answer of course is, "It depends." But wouldn't it be great, for example, if you could post to a contact and have it displayed on the related account? Well, now you can! Simply create the rules that define how and when the post should be "copied" and you're all set.  Instead of automatically posting, we gave the power to the users to decide by setting a rule that when the hashtag #up was included in the post it would roll up to the "parent object".
The novelist Ellen Glasgow once said, "It is lovely, when I forget all birthdays, including my own, to find that somebody remembers me."  Birthdays are a once in a year chance to reach out to customers and let them know you remembered their special day. But when forgetting is so easy, it's invaluable to have this great little app that can help remind you.  I must confess that I have the previous version installed (which was free).  However, the upgrades available in the current version, including the ability to switch between MY and ALL contacts as well as extend the reminder date window makes the small one-time fee worth while.
Check out also some of our veteran AppExchange All-Stars: