What Businesses Can Learn From the 2012 San Francisco Giants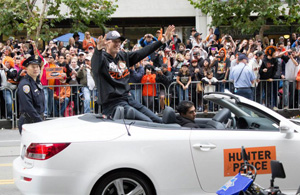 Wow. What a year it was for the 2012 San Francisco Giants. It was a season filled with ups, downs, and a whole lot of "torture." We witnessed tons of amazing baseball, players coming out of nowhere to become heroes, and so many inspiring moments. Similar to the Giants' 2010 season, the year ended with the team hoisting the World Series trophy for the city and world to see.
When a team comes together like the Giants did, it is a special thing as it can provide many valuable life and business lessons to learn from. Just as in business, sports shows excellent examples of great leadership, overcoming obstacles, the importance of focus, and many more. 
Here are some of the main take-aways that I was able to draw from the Giants' magical season:
1. Expect the Unexpected
The Giants not only had to deal with injuries to star players, but they also lost arguably their best player, Melky Cabrera, to a 50 game suspension. The team could have easily crumbled, but instead saw this as an opportunity and thrived. Every business out there deals with unexpected curveballs (no pun intended). Whether it's a "sure thing" deal falling through or losing a big investor, you must stay calm and collected and take each experience as one less obstacle your business must overcome before achieving greatness.
2. Identify Top Talent 
The Giants did an amazing job creating new roles for struggling players and bringing on key role-players such as Marco Scutaro and Hunter Pence. A perfect example of this was during the playoffs, designating Tim Lincecum, a 2-time Cy Young award winner, to the bullpen where he was able to better help the team. When valuable team-members decide to leave a company, oftentimes businesses go into panic-mode. This is the time to ramp up your recruiting efforts and to fill roles with folks from within your organization. Keep in mind that promoting from within will drastically reduce time and training costs of getting someone new up to speed.
 3. Stay True To Your Mission
The Giants' biggest rival, the Los Angeles Dodgers put the heat on the Giants when they went out and acquired a slew of superstars towards the ends of the season. The Giants countered by creating a stronger clubhouse with their diverse group of players versus trying to match the Dodgers additions. Too many companies get caught up in the major product launches and big announcements of competitors. This often leads to products being launched before they are ready, hasty growth which brings on future layoffs, and a public perception that the company is intimidated and unfocused. Keep a close eye on the competition but stay true to your core competencies and what you do best.
4. Be Focused, Resilient, and Confident
I haven't seen a better example in sports of resiliency and pure confidence than the Giants' journey to get to the World Series. They were down to their final game record-setting SIX TIMES in the playoffs and each time they were victorious. Aside from this being a great display of confidence and resiliency, it showed how they were able to stay laser-focused on the task at hand. It's so easy to look ahead to big deadlines and lose track of the little steps that will make your project a success. A great leadership team will always keep the big picture in mind, but putting more emphasis on the steps is needed for success.
5. Win As a Team, Lose As a Team
Whoever came up with the 2012 Giants' simple "25 Guys, 1 Common Goal" slogan is a genius. It gave a clear message to the team, management, and fans that they were only about two things: teamwork and winning a championship. This creative way of defining success helped get the entire city and fan base behind this mission. Bring your marketing team and key executives together and come up with a simple, yet powerful slogan for your employees and community to get behind. Creating the space for a stronger team and ties to your community will differentiate you from the competition.

For those who watch sports, we are constantly presented with amazing stories of heroism, inspiring moments, and  important life lessons. They can be seen in professional sports and little league sports. Next time you are watching a game or following a championship run of a team, look out for similar lessons and use them in your everyday life and in the office.
You can follow me at @jaredmpaul.