How to Treat Your Facebook Page Like Your Website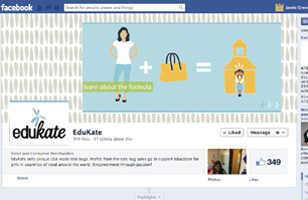 What makes a website successful? It's a combination of amazing visuals, compelling text, healthy traffic from customers and prospects, and effective pages that promote the kind of viewer behavior you desire as a business. You wouldn't think of launching a website without considering the following: 
A style guide to keep the design and tone consistent across the site and accurately reflect the personality of the brand.
Messaging that grabs your attention and powerfully expresses the benefits of your company or product.
Choosing the right platform to host your website.
SEO optimization to ensure each web page can be discovered via search engines like Google.
PR and marketing activities to drive traffic to the website to increase awareness of the product, ideally taking advantage of timely news or events.
Campaign tracking to understand how the website contributes to the bottom line of the business.
Now let's think about Facebook. It's really no different. If your company has taken the first step to create a business page, don't stop there. Your Facebook page, like your website, will benefit from:
A style guide to help ensure your posts are of consistent quality and reflect the brand. Stay consistent with colors, format and photography style to create a page that represents your company.
Well-written posts that grab the attention of your fans enough so that they will share them with their personal networks.
The right tools to manage your posts and build Facebook apps. The answer can be as simple as posting directly from Facebook, or as sophisticated as using a social CMS system to manage all aspects of your Facebook campaigns.
Optimizing each post with ad sponsorship to ensure your post is seen by the widest possible audience on Facebook.
Timing your promotions that take advantage of seasonality and other current events. This will get your brand into a larger conversation and draw attention to your Facebook page.
Measurement to understand how your Facebook posts are driving back to your 'conversion events' - whether that's web site visits or filling out an offer form. Use coupon codes, tag your links and use Facebook insights to track what's working.
Many companies today launch a Facebook page without a plan for making the most out of their presence. Forward-looking companies like Burberry, Red Bull and Pandora are investing in their Facebook pages with consistent, high quality posts.

As a small business with limited resources, how do you give more attention to your Facebook page? Start by following the steps above. You'll soon find that by nuturing your Facebook page, your brand will stand out among the competition.
Who knows, in five years, your Facebook page may get more traffic than your website!

To learn more about how small businesses can use Facebook to their advantage, watch this webinar: