40 Ideas for Your 2013 Social Media Plan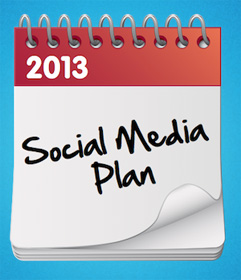 Ready to become a truly social business that stands above the competition? We've combed through hundreds of pieces of content and hand-picking 40 popular, useful and creative ideas you can put into action in 2013. From tracking and measuring social media leads, to creating a social media playbook, here are 40 points from our ebook, 40 Ideas for your 2013 Social Media Plan.
Build a social media command center.
Craft a successful social media content marketing plan.
Create your own social media playbook.
Include social ads in your advertising campaign.
Automate your social advertising.
Track and measure social media leads.
Respond to your next crisis like an All-Star.
Write a social media-friendly press release.
Find great job candidates on LinkedIn.
Find great job candidates on Facebook.
Screen job candidates with social media.
Conduct agile market research with social media.
Use social media at your next conference or trade show.
Turn transactions into relationships.
Serve as an open forum.
Bookmark these seven essential equations for measuring social media success.
Set sensible social media goals and objectives.
Make your customers the hero.
Slake your community's thirst for knowledge.
Think and talk in pictures.
Thank your social media followers.
Be active on the weekends.
Turn yourself into a Twitter maven.
Choose the right social monitoring search terms.
Assess your social media maturity by filling out our Social Scorecard.
Suggest the hiring of a Chief Social Officer.
Set up a social media council.
Organize your social media editorial team.
Overcome cultural obstacles to social media adoption in your company.
Automate your social workflows.
Craft a social media policy that's actually useful.
Ensure employees adhere to your social media policy.
Use social media to test different content approaches.
Be inspired by storytelling.
Imagine if a customer read your social media strategy by mistake.
Deputize your social media super fans.
Take your social interactions offline.
Be more transparent.
Time Facebook posts for maximum exposure and interaction.
Optimize your Facebook content so it appears in your fans' news feeds.
If you're interested in even more ideas, check out last year's 30 Ideas for Your 2012 Social Media Plan.