How to Improve Your Social Media Identity Starting Today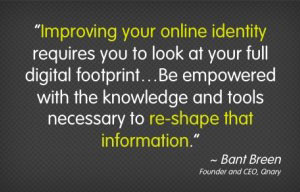 Getting in shape in the new year extends far beyond reps at the gym. As marketers, our social media presence plays a big role in our reputations and the reputations of the brands we represent. Are you doing everything you can to improve your online identity?


We sat down with Bant Breen, Founder and CEO of Qnary, a business focused on empowering individuals to see, shape, and benefit from their digital identities. Prior to launching Qnary, Bant served as Worldwide CEO at Reprise Media and has worked at many agencies including IPG Emerging Media Lab, Universal McCann and Leo Burnett Worldwide. With his widespread agency experience and clear understanding of social influence, we asked him all about how to boost your social media presence.

Can you explain to marketers the importance of understanding influence in social?

Today, more than ever, people turn to the web to find information about others. It's quite likely that someone you know has Googled you. Do you know what they found? And, does it matter?

It matters.

If you're looking for a job, your recruiter has probably seen at least one of your social profiles. According to Jobvite, 86 percent of recruiters check candidates' social media profiles. And, if they didn't like what they saw, you missed out. A Reppler study showed that 69 percent have rejected applications based on what they found online.

Your personal life can be affected too. According to an eHarmony study, nearly half of men and women have looked up their dates online before going out with them. The same site reports that online dating has become the third most popular way for newlyweds to meet in the last five years.

How do you improve your online identity?

Improving your online identity requires an individual to look at his or her full digital footprint, discovering the information that is available about him or her via search engines, social media platforms, and other content sites. Once an individual has seen that information, he or she needs to be empowered with the knowledge and tools necessary to re-shape that information. For many, that involves eliminating outdated photos, developing clear, consistent messaging about the image that he or she wants to portray, and reaching out to connect with others. The Qnary solution supports individuals in these steps.

When people meet others socially or for business they look them up online. Sometimes they use Google or Bing which is why search results matter. Other times, they choose to use social media platforms like LinkedIn (for business purposes) or Facebook (for social purposes).


In many ways, people look up others to determine whether they're trustworthy. Many news sources from The New York Times to Forbes have written articles in the last year warning that social media resistors do miss out on key events or are seen as suspicious or dishonest.

How do you break through in social with your messages?

There are several ways to break through all of the digital media signals. Certainly if you do something outrageous you can become an overnight Internet sensation like when PSY's Gangnam Style became the first YouTube video to hit one billion pageviews worldwide.

But for most people, generalized fame or infamy is not the goal. Most people want to become thought leaders in interest areas where they are already experts. If you are a passionate follower of a band, like Coldplay, or want to strengthen your connection to your professional area of expertise then writing about the subject matter, tagging your content appropriately, and commenting on related topics is the way to go. Qnary offers content templating to help you outline what you should post about and how often you should post as well as suggesting when, where, and how often you should comment.

What social media analytics do you recommend marketers look at to determine if they're enhancing their online identity?

There are several social media analytics that we look at including connections (how many people you are connected to via all social platforms), activity (what you have shared or posted on all social media platforms, engagement (how often people are interacting with content that you've shared), and optimization (the level of completeness of your social media profiles as well as whether your profiles convey a clear, consistent message).

Thanks for your time today, Bant. For more information about Qnary click here or Tweet Bant at @bantbreen.