Video: How to Import Data into Salesforce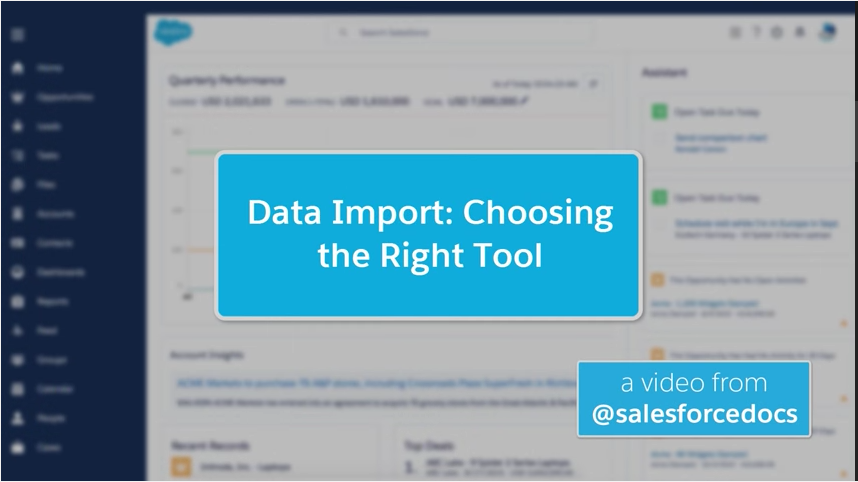 We know that getting data into Salesforce is crucial for your business. To help you sail the data import seas smoothly, we've put together a 6-part video series covering the ins and outs of data import.
Watch and learn what your different options are for importing data, why you might choose one option over another, and pick up some tips and tricks that will make your next data import session more efficient and successful.
View all 6 videos in order by using the playlist, or pick and choose them individually, depending on what you need help with.
Importing Data Overview
This overview video acts as a table of contents for the Salesforce Data Import series. Get a quick glimpse of what each video covers, and use the clickable list of titles to access the videos you're interested in.
Preparing Your Data for Import
Let us walk you through preparing your data to be imported into Salesforce. We cover how to clean up your import files, getting Salesforce ready, and best practices for keeping data clean once it's been imported.
Cleaning and Preparing Your Data Using Excel
Covers several Excel features and functions that will make quick work of getting your data files ready for import. Vlookup, Concatenate, combining data, separating data -- it's all here! Use the clickable links in the table of contents to jump to whichever feature you'd like to learn and we'll show you some practical ways to use that feature with your import data.
Should I Use Data Loader?
Discusses the different options you have for getting your data imported, with a focus on the Data Loader and its advantages.
Importing Your Data in the Right Order
If you're importing multiple objects that have dependencies, such as accounts and opportunities, this video is for you. It walks you through, step by step, which objects should be imported, and when. We'll demonstrate a user, account, and contact import process.
Best Practices for Importing Data
Lists the top pain points experienced by our customers, so you can avoid them entirely! Watching this video can save you hours of frustration. Learn how to delete a bad import, how to back up data before import, and more.