Salesforce.com Tel Aviv Kicks off 2013 in a New Location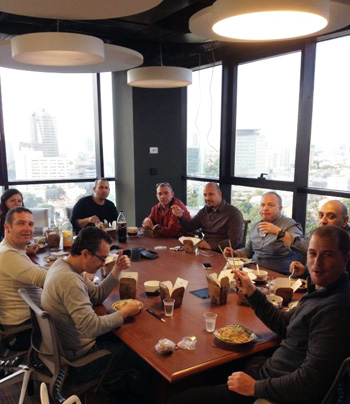 In late December, saleforce.com employees in Israel moved into Kardan Tower, a high-rise in the heart of Tel Aviv. The company now has an entire floor to itself, not to mention a speedier network connection and well-stocked kitchen. We caught up with Noga Perry, VP of Research and Development, who gave us an inside scoop on the excitement the new office is generating.

How have employees reacted to the new space?

"The first thing that they did when we moved in was connect to the network and were happy to find out that they are on the Salesforce network. Before, we had to log on to the network through a virtual private network (VPN), which was very inconvenient and slowed us down. We also have a great kitchen with all the goodies, but also with a lot of healthy food. Since we're in a relatively new business area, there aren't many dine-in options nearby, so we order take away for lunch and sit together in the kitchen area. It's actually very nice and very social."

How will the new office benefit the company from a strategic location perspective? "Israel is a great place for innovation, technology and talent, and we hope to get more people to join and be part of salesforce.com in all the strategic areas of the company. The nice office, the good location, and the challenges that the company can offer all help to attract talented people."


What teams work out of the Tel Aviv office?
"The DRO (Data Residency Option) team, the team for BlueTail (an Israeli startup acquired by salesforce.com), and we also have business development here." 

Anything else we should know about the new address?
"There's a Ferrari dealership on the first floor with a couple of nice red cars on display. The employees – mainly the men – like to stand there and watch."

More space = more #dreamjob opportunities! Salesforce.com Tel Aviv is hiring for its DRO (Data Residency Option) team. Learn more and apply here.