Meet the Product Managers Behind Spring '13 [Twitter Q&A]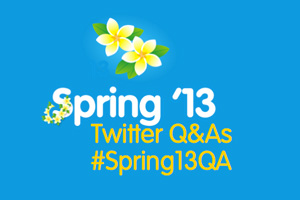 Our latest product release for Spring '13 is here. In order to find out more about the new features and learn how to use them better, we are inviting you to talk directly with the Product Managers behind those innovations. 
You can meet the Salesforce PMs during the four Spring '13 Twitter Q&As we are holding next week. Tweet your questions about the new updates using #Spring13QA and our product managers will answer you live. Make sure to download the release preview which will provide details on all the features below.
Here is the Twitter Q&A lineup: 
February 5th, 9-10am PST: Marketing Cloud @marketingcloud
Features: Social Insights, Stacked Converstation Views, Posting Palette, Social Coupon Management, Pinterest Page Management, Facebook Mobile Tab Visibility, Custom Audiences, Action Targeting, Marketing Cloud for iPad and Person Account Social Rules
Product Managers: Jonathan Belkowitz, Victor Beuk, Abigail Grant, Andy Craven, Liam Doyle, Ajay Shroff, Geoff Anderson & Al Sturgeon 
 
February 5th, 10-11am PST: Chatter @chatter

Features: Sunlight Search, New Preview Links, Chatter Tasks, Search in Groups, Public Group Posts

Product Managers: Susan Kimberlin, Rasmus Mencke, Kimmie Nguyen, Chris Seymour
February 5th, 11-12pm PST: Service Cloud @servicecloud
Features: Touch Cases
Product Managers: Scott Beechuk, Michael Ramsey, Francois Lopitaux


February 6th: 9-10am PST: Sales Cloud @salescloud & Data.com @datadotcom
Sales Cloud Features: Touch Dashboards, Touch Leads, Touch Cases, Multiple Apps on Touch, Touch in the iTunes App Store, Touch Visualforce Pages, Quartely Forecasting, Forecasting for Partner Opportunities.
Sales Cloud Product Managers: Pratima Arora & Robin Grochol 
Data.com Features: DUNSRight Matching, City Search, Global Accounts
Data.com Product Managers: Dan Milbrath & Nathan Creswell 
February 7th: 9-10am PST: Salesforce Platform @forcedotcom
Features: Force.com Canvas, State and Country Picklists, Tooling API, Metadata API, Connect in APEX, Chatter REST API, Visualforce Touch 
Product Managers & Developer Force Team: Jay Hurst, Shawna Wolverton, Josh Kaplan, Adam Torman, Andrew Smith, Pratima Arora, Reid Carlberg, John Stevenson, Pat Patterson, Dave Carroll
So starting tweeting your feature questions at #Spring13QA and make sure you are following each of the Salesforce Cloud Twitter handles to get the most out of the conversation.