Getting Paid To Do Good and Surf? #Dreamjob Indeed.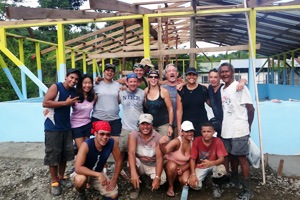 You've probably already heard that salesforce.com is an amazing place to work and build a career. You may even be aware of the company's 1/1/1 philanthropic model of donating 1% of time, equity and product for charitable causes. Today I'd like to share my story and introduce you to one of the many ways salesforce.com is a force for good in the world, and why it is truly my #dreamjob.
Although I have been a Salesforce admin and developer since 2003, I really caught Salesforce fever in 2007. I was invited to speak at Dreamforce by Clara Shih and present about bran-new AppExchange. That first Dreamforce was such an incredible eye-opener. Being a part of that energy was inspirational, and I've been a raving fan ever since. So when the opportunity came along to join Salesforce's Customers for Life division in August 2011, I leapt at it.
Having admired the company for so long from the outside, I wondered if my incredibly high expectations would be deflated. Would the luster wear off? Going to Disneyland is quite different from working there, after all.
Well, after 16 short months I can say my experience has far surpassed my expectations. The culture of this company is on full display at Dreamforce. I could ramble on about the sensational talent, dedication, and collaborative environment, but what's blown my mind more than anything else is the 1/1/1 model -- especially the 1% time. Marc always highlights this as part of his keynotes, but I have to admit I was a tad skeptical about this before joining company. I figured the Salesforce Foundation focused the company's philanthropic efforts, but I found it hard to believe it's woven into the DNA of the company.
Boy, was I wrong. The 1/1/1 model is alive, well, and indeed a reality. It all begins with our new hire orientation bootcamp. All employees are brought to headquarters for a 1 week orientation to salesforce.com. During my bootcamp week, there were over 100 new sales and CFL team members in attendance. And guess what? One full day of bootcamp is spent on a Foundation event. I spent the day swabbing the decks at Family House, an organization that provides free housing to families of children undergoing treatment at San Francisco area hospitals.
Time is supposedly money, but in many ways it seems even more valuable to me these days. 6 paid days per year, per employee, to devote to any charitable cause that floats my boat -- how amazing is that? For the first few months, I used my 'VTO' time volunteering at my kids' school and participating in a local Habitat for Humanity building effort. I heard that some people people choose to save up their days for a big project, sometimes even traveling around the world. I was intrigued by that prospect, but didn't really know where to get started. As is the case for nearly any question I have at work, Chatter to the rescue! Our internal instance of Salesforce Chatter is a massive and invaluable repository of tribal knowledge. Looking through some Foundation posts led me to Surf for Life, a non-profit that sponsors educational development projects in coastal areas.
Surf for Life Nicaragua Project Video from Bill Stefanacci on Vimeo.
Go big or go home, right? I just committed to a project in Nicaragua next spring! I'll be going down for a week with 9 others to begin construction on a high school in El Manzano Uno, Nicaragua. There will be two more waves of people coming through March. Each of us, in addition to giving our time (and sweat), commits to raising $2000 to help fund the construction. This is a remote area of the country where most childrens' education ends at 6th grade simply because the secondary school is over 60 miles away.
When it's all said and done, we will have contributed 1200 hours and $60,000 for this particular project! And I could use your help! If you could support this project and make a donation to bring new opportunity to these kids and end the cycle of poverty I would be very grateful. Visit my donation page to get started. I'll be documenting the experience on Facebook as well, so "Like" my Facebook page to see the adventure progress!
My story is just one of many. Salesforce.com is still a relatively "small" company, but can you imagine the things that could be accomplished if every corporation adopted the 1/1/1 model? I encourage everyone out there to find a cause you're passionate about, rally a few of your colleagues, and challenge your company to get behind your efforts by donating the time. The limitless problems in the world won't be solved by government alone. It takes an army of all of us.
* Photo courtesy of Victor Ho