Business Analyst Works His Way Up to R&D Rock Star [INFOGRAPHIC]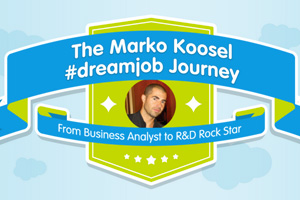 At salesforce.com, we aim high and constantly look ahead. And when we reach a destination, we don't linger too long; we keep things moving - thinking and innovating about how we can improve on what we've already accomplished. We understand the ultimate rewards are often found in the journey rather than the destination. This intense focus on forward momentum has spurred enormous success for us as a company and as individuals. So ... we invited a few of our adventurous employees who are thriving in their #dreamjobs to share the unique stories of how they got from Point Then to Point Now. May their journeys help to inspire your own. 
Marko Koosel had not one, but two great first impressions of salesforce.com when he launched his career with the company in 2005. For one, he had to tie up some loose strings with his previous employer that took longer than a two-week notice. But salesforce.com decided he was worth the wait – six months to be exact. Next came New Hire Orientation (NHO), an official warm welcome from the company that Marko couldn't believe because hires at all levels were mixing, mingling, and building their professional networks right out of the gate. "I still keep in touch with people I met at orientation," he said. "That will help you with your career here."
It has certainly worked for Marko, who started out as a Business Systems Analyst, building a data warehouse and implementing business objects. But a connection he made at NHO was instrumental in landing him his next role: Field Operations Manager, a position in which he built out a custom-reporting database. From there, Marko's career momentum continued on a steady climb to senior roles in both sales strategy and product management.
In 2011, Marko was promoted to Product Management Director. It was a particularly exciting role because he got to oversee the development of mobile dashboard product for the iPad. In true salesforce.com fashion, the position challenged Marko to take risks when it came to innovation. But one particular risk involved him and his manager moving a project forward despite it not being a top priority from the top. Fortunately, the project in question was a success. "That was very risky because we had very limited resources plus iPad was new at the time," said Marko. "We had to train our developers to learn a new programming language." Eventually, Marko and team launched the product at Dreamforce, which to date has exceeded 200K downloads on the App Store.
As a director, he continued to launch new analytics add-on products. Not all were successful, which challenged him to step up his game. His efforts were ultimately rewarded with a promotion to Product Management Senior Director in 2012, and, thanks to recommendations from peers, he was officially declared an "R&D Rockstar."
Marko is flattered by the accolades, but he's not one to get hung up on titles. He sees the next rung on the career ladder being a more strategic role, one in which he gets to both hone his passion for analytics and have maximum impact on the marketplace. Simply put, he aims to help change the world from an analytics perspective. "We're really trying to revolutionize the analytics business," he said. "That has been my goal all along."
Follow Marko's #dreamjob journey in the infographic below, and you might just pick up a few tips to help take your own career to the next level. 
Ready to make your #dreamjob come true? Start your journey today at salesforce.com/dreamjob or @salesforcejobs
Click on the image to see a larger version: