How to Tell Your Company Story with Social Media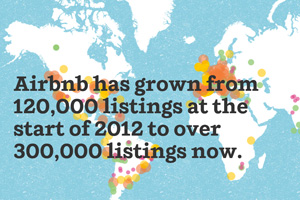 Every company has a story to tell. Whether it's the launch of a new product, the opening of a new office or a summary of a year's worth of achievements, brands are always looking for ways to get their message out to the masses. 
Social media has extraordinary reach and the ability to turn a message from unknown to widespread in a matter of hours. But when every brand is trying to accomplish the same thing, you need to try new things.
Enter: Airbnb.
Airbnb is a community marketplace, which allows people to rent out their apartments and living spaces ato those seeking housing. It has seen incredible growth over the last few years. Though Airbnb could have sent a press release to the wires, or posted to its Facebook Page with the news, or even Tweeted out stats about its growth, the company decided to do something different. Airbnb released an incredible infographic to highlight its global growth. Among the most fascinating aspects of the infographic:
Instead of creating a static infographic, this one allows users to scroll from top to bottom. As the user scrolls, copy, colors, and background images all change to tell a new part of the story.
There's typically more than one way in which Airbnb chooses to tell each piece of the story. With text, images, maps and graphs all placed together within the infographic, users are able to understand the story in whichever way they best digest.
The infographic links to other pieces of Airbnb content as the user scrolls. In one section, labeled "The rewards of hosting are immeasurable," users can click on links next to case study summaries to hear an audio story.
Brand Takeaways
Every brand may not have the resources to create a compelling infographic like Airbnb. But the way in which the company decided to present its story can provide inspiration in the following ways:
Would you share your story to your own personal social networks? If the answer is no, you need to be more compelling. Infographics, Facebook tabs, social microsites, and videos all help tell a story beyond traditional measures.
Find ways to use your existing content. You've already devoted a great deal of time and effort into creating content for your company. So why hold it back now? Find ways to repurpose your blog posts, audio files, video clips and more to enhance the overall message your brand is relaying.
Make it easy to be social. It sounds basic, but in your haste to create something great, you may forget to enable social sharing. The Airbnb infographic has social share buttons that display as the user scrolls, allowing for sharing at any point during the experience. Let your users help spread your story in the easiest way possible.
Have you seen any other great examples of brands telling their story? Share below in the comments!