A Letter from the IT Trade Show CeBIT 2013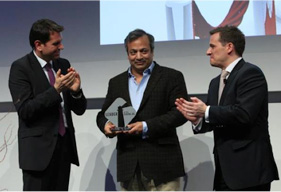 Dear salesforce.com colleagues,
I am sending you an update about CeBIT. This IT trade show for business decision makers which premiered in 1986 is even bigger than CES. I have done some research: this year CES had an exhibition space of 174,000 square meters. In Hanover (Germany) exhibitors and visitors got sore feet by pacing through more than 20 large halls with altogether 496.000 (!) square meters – let us not forget the 58,000 square meters of open space. In short: CeBIT in Hanover is really the largest IT trade show worldwide. That's why the German Chancellor Angela Merkel came in person to open the show.
The motto of this year's CeBIT was "shareconomy." This term addresses the trend of sharing things instead of owning them – may it be infrastructures, data or cars. In his keynote at CeBIT the salesforce.com Chief Scientist JP Rangaswami pointed out that the principle of sharing has been here for a long time and that today we are seeing a renaissance of this paradigm. Salesforce.com in Germany published a survey about sharing two years ago so we picked up this trend at a very early stage.
But let's return to CeBIT and the highlights of our presence at the trade show.
Salesforce.com was awarded the Leader in the digital age award (LIDA) 2013 which JP Rangaswami happily accepted on behalf of our company.
With our brand new booth we launched our new customer company story in Germany. It was very well received. Many customers agree that this is what is really uppermost in their mind these days and asked us how we can support them in the transformation process lying ahead.
Top highlight at our booth: Marketing Cloud! The social command center was a true magnet for visitors. We were almost overrun by guests and had tons of great conversations from dusk till dawn. That's why the spirits were as great as the weather in the first days. (BTW: Normally it snows in Hanover around CeBIT time, which is why the Germans call the fair "Schneebit").
The team: Hawaii may not be as close to Germany as it is to California, but we definitely love the Aloha spirit.
Don't worry, we are not running around with straw hats, sunglasses and Hawaiian flower garlands all the time: The spirit is as splendid in business outfit.
It might be worth mentioning that we were not only present in hall 4, where you traditionally find all the large IT players. We also presented or took part in panels elsewhere at CeBIT. I myself was invited to a panel about "New strategies for content marketing" yesterday. The bottom line was: successful companies deliver great and useful (web) content because this has a much stronger impact on customers and stakeholders than shiny ad campaigns.
Have a look at our CeBIT video for some more impressions!