10 Best Practices for Social Media Advertising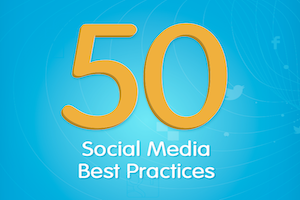 Social media advertising is a complex process that requires planning, research, testing and measuring all within a single campaign. And while much of it is trial and error, there are some best practices that can help guide you through your social media advertising initiatives.
As part of our latest ebook, "50 Social Media Best Practices," here are 10 best practices to help you with your social advertising campaigns.
1. Set your advertising goals first. Before you even get started, think about the reasons you want to advertise on social media, and what you want to get out of it.
2. Create both daily and lifetime budgets for your campaigns. Setting your budget for both the entire length of a campaign, as well as on a daily basis, will help you decide which ads to run when.
3. Research the social advertising platforms. Regardless of the best type for your campaign, familiarize yourself with your options so that you can make the best decision.
4. Fit your social ad campaigns in the context of other advertising initiatives. In order to create cohesion, make sure your creative, messaging and targeting coincides with the rest of your traditional advertising.
5. Match available targeting options with your advertising objectives. Part of the allure of social media ads is the plethora of targeting options, but consider what you want to accomplish using targeting before making decisions.
6. Test, test, test. The best way to determine the success of something is to have two small test groups and show them different versions of the same promoted content, then using the better-performing content for the balance of the list.
7. Automate wherever possible. The next stage for companies using social ads is to use a platform that makes optimization decisions based on performance.
8. Don't forget about time of day and scheduling. Look at the times and days on which people are most engaged with your ad, and devote more of your budget to those times.
9. Determine the metrics that will best represent your campaign status. As your campaign progresses, either make changes to optimize the results of your chosen metrics, or determine whether you need to change what you're measuring.
10. Set regular meetings to analyze metrics. The only way to know what needs to be changed, if anything, is to look at the results on a regular basis.
Want best practices for social media listening, publishing, engagement, and measurement as well? Click below to download the full ebook.