Everything You Need to Know About Social Media Command Centers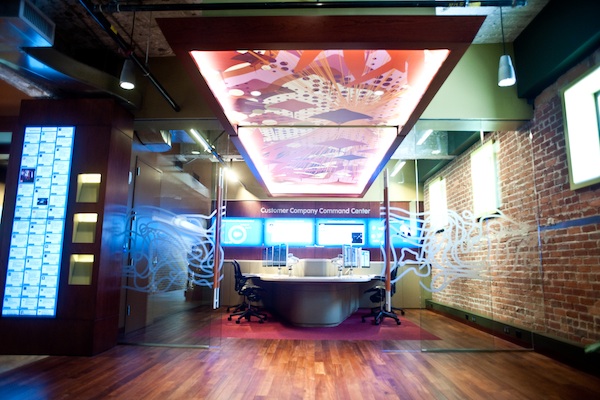 A social media command center is a dedicated area where a company can monitor and engage in social conversation around their brand and market. Whether it's a state-of-the-art showpiece or a group of desks in a room, it allows for real-time monitoring of social media trends that can inform business decisions and enhance the social health of your brand.
Who has social media command centers?
Brands large and small have social media command centers, including the American Red Cross, Dell and Gatorade. Check out these stories:
Cisco. Cisco launched a Social Media Listening Center which enables employees, customers, partners and visitors to view real-time Cisco conversations from the social web in order to get closer to customers. During this interview with Charlie Treadwell, Social & Digital Marketing Manager at Cisco, Charlie says, "Social listening has allowed us to get closer to our customers." Read the story.
National Australia Bank. The National Australia Bank believes the future of mobile and online is largely in social media and has seen more than 350 percent growth in its social media community. It now has more than 135,000 followers across Twitter, Facebook, YouTube, LinkedIn, and Google+ with content reaching over 12 million users. NAB has a team of dedicated social media staff, covering everything from customer service to campaign promotion. The team receives around 5,000 comments, and resolves 600 customer service requests, through social media every month. This represents a 10% growth in customer service interactions on social media, on average, for every month in 2012.
Gatorade. As a pioneer, the Gatorade's Mission Control Center provides valuable marketing information that impacts decision making. Gatorade uses social intelligence from the command center to understand how their products are resonating with customers, identifying detailed sentiment analysis around key topics and product and campaign launches.
Clemson University. Many of you have heard about Dell's Social Media Listening Command Center, but students at Clemson University are using their social media command center as part of their education curriculum and as a research tool. Read the story.
American Red Cross. A command center is at the heart of the disaster prevention and social strategy for the American Red Cross, which responds to 70,000 disasters every year with their American Red Cross Digital Operations Center.
What are some uses of social media command centers?
Connect with key decision makers. Dell uses their command center to connect with IT leaders to uncover helpful information in order to better understand customers.
Give executives an at-a-glance look at the social health of your brand. Cisco installed a 2-screen kiosk in front of their CEO and CMO's offices so company leaders can keep one eye on the brand.
Stay connected. Clemson University's command center was used by student researchers to monitor conversations about academics, NCAA athletics, alumni and student activities, and community programs.
Serve as the platform for your crisis communications plan. American Red Cross staff and digital volunteers listen to online conversations, interacting directly with people who need help or have questions.
Inform content strategy and development. Edelman Digital is the interactive arm of the world's largest independently-owned public relations firm. They've set up their own Social Intelligence Command Center (SICC), which monitors the social web to gather data for many activities, including content strategy and development.
Read more ways in this blog post.
How can you get your own social media command center?
Whether your organization or event is comprised of 100 people or several thousand people, a social media command center can be scaled to your needs. Here are some steps to set it up:
Use a social media monitoring platform to search for relevant keywords for your brand: Think about event hashtags, speakers, participants and influencers.
Determine the 3 Ws: Who will be responding on behalf of your brand? What hours will you be engaging? Where will your command center be located? It's important to create a schedule to ensure your hours of engagement are properly covered.
Categorize posts: Be prepared to categorize content into tiers such as Tier One for items requiring an immediate response, Tier Two for mentions that need a response but aren't urgent in nature, and Tier Three for items that need no reply, and then route them accordingly.
Create a playbook: This is a handy, quick-reference guide that details the processes around your command center for your team.
Be flexible: Be prepared to toss it all out at a moment's notice and change things up to adapt to any situation that may arise.
Have fun: Most importantly, have a good time engaging with your community. If you're enjoying yourself, it will certainly come through in your engagement, and provide a more pleasant experience for your community.
Salesforce unveiled their brand new command center on 5/30. Powered by the Marketing Cloud, the Customer Company Command Center is Salesforce's central hub for social media processes and best practices. The Command Center is staffed by a team of community managers and social customer support reps, enabling them to manage over 50,000 brand mentions a month. The Command Center helps Salesforce connect previously siloed departments like sales, PR and support, resulting in the ability to turn social insights into actions. Join the conversation at #SalesforceSMCC and learn more in this NBC article.
Interested in a command center of your own? Get started with Salesforce Marketing Cloud.