Cold Emailing: How to Get Meetings With Anyone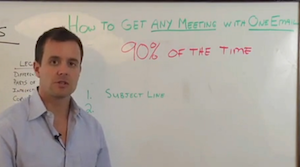 Developing an initial relationship with a prospect is a balancing act of communication methodology and word choice. Many sales representatives choose either cold calling or cold emailing as their preferred means to start the sales process.
In an online presentation at the Inside Sales Virtual Summit, Bryan Kreuzberger, Founder of Breakthrough Email, gave a presentation titled, "Cold Emailing: How to Get Meetings with Anyone." In the presentation he discussed the challenges of cold emailing, the biggest mistakes people make in doing so, and how to overcome these challenges.
The Biggest Cold Emailing Challenges
Prospects receive 20-100 emails per day
They don't read your email
You can't track whether they read your email or not
You have to follow up with a call or email
Don't want to go in to the wrong person on the wrong level. Have to figure out who the right decision-maker is
The 7 Biggest Mistakes People Make When Cold Emailing
You think the subject line is really important; it's not as important because people can often read the first couple sentences before they open the email
You only write one person, and you assume it's the right person
You write long sentences that are hard to read
You write all about you, not for them. Biggest mistake in most emails - it's often all about you. Be crystal clear and spell out exactly how you can help them
You don't spell out the benefits for the prospects
You copy, paste and blast out bad emails
You burn a good contact in taking the risk to reach out to someone with a cold email
Steps to Improve Your Cold Email Success
1. Try to find the right person at the company with whom to connect. This is a one-shot, one-kill approach to the email. Ask something such as, "I am writing in hopes of talking to the appropriate person who handles marketing. In that pursuit, I also wrote to (name others at the company). If it makes sense to talk, let me know how your calendar works."
By listing others within the company, such as a contact's manager, you put pressure on them to respond, or at the very least, pass your email on to the right person. Because they want to perform in front of their manager, it is less likely that they will ignore your email.
2. Test different words within your email.
Talk vs. meet/have a call: You're trying to get the prospect to raise their hand to say it might make sense for them to meet with you. Remember the context of this email, which is very preliminary in the sales cycle; they aren't willing or ready to meet with you in person or in a meeting. Talking is a lower value conversation vs. a meeting or scheduling a call.
Schedule vs. calendar: Using the term schedule makes it easier for people to say they are very busy, but using the word calendar can leave more room to find an opening.
3. Distinguish yourself in the core of the email to really show people how you can help the prospect. Don't just send out a generic email that touts the features of your product; instead, research the prospect's business and challenges and adapt your email to fit their needs.
4. When following-up with a prospect after they stop responding, mention an event that just happened. If there is no event that just occurred, make it up. For instance, use the following: "I'm writing to follow up with you; I just met with my business partner, and we typically close files after a couple months of not hearing back. Do I have permission to close your file if you are uninterested in our service? If you are still interested, what would you recommend as a next step?"
Click here to read Kreuzberger's template for cold emails.