The Cost of Bad Customer Service [Infographic]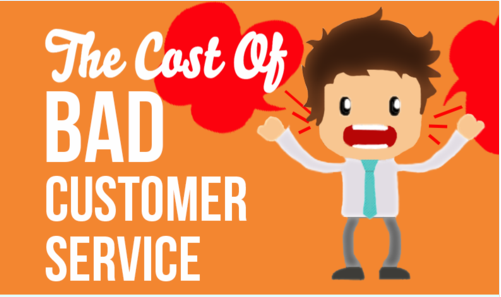 How many times have you clicked on a website to be confronted with a statement like 'Customer Service is our Top Priority'? When I see something like this my immediate reaction is often to think: 'Prove it!' It is one thing to trumpet your commitment to customer service and quite another to actually demonstrate what top customer service looks like in practice.
Businesses will have to learn that commitment to good customer service should be more than a mantra. Bad customer service gets talked about and has the potential to destroy businesses.
Why It's Time to Take Bad Customer Service Seriously
Bad customer service can cost you money in the short term (through abandoned transactions), in the long term (through the loss of repeat business) and will make attracting new customers so much more difficult (due to negative 'word of mouth'). Companies who want to be in business for the long haul will have to be serious about eliminating bad customer service. This will mean having systems in place to deal with issues quickly, efficiently and with an emphasis on positive interactions with customers.
To illustrate the true cost of bad customer service we created "The Cost of Bad Customer Service" infographic.
Click here to see the full infographic