4 Customer Service Tips from Disney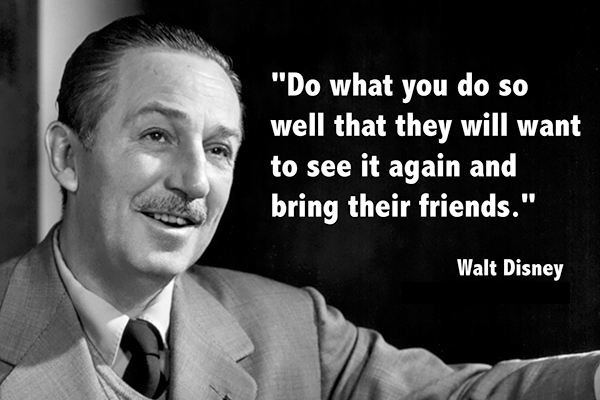 If you've ever been to Disneyland, you've probably experienced the feeling. I know I have. The nervous, giddy excitement as you pull into the parking lot and ride the tram to the entrance. The anticipation as you wait to enter the gates and the promise of an awesome day. And even though I've walked through the gates of Disneyland numerous times (I was pretty lucky as a kid to have grandparents that lived 30 minutes away) it's never any different. I still stop and stare in awe of Main Street USA and all that Disneyland has to offer.
This Disney magic is why we today we celebrate the 58th anniversary of Disneyland. (The park's grand opening was July 17, 1955.)
Here are four customer service lessons you can learn straight from Walt Disney:
1. "You don't build it for yourself. You know what the people want and you build it for them." ~ Walt Disney
Learn who your customers are and understand what they've come to expect from you. When you truly listen to your customers, they let you know what they want and how you can provide good service. Make sure you're evaluating your setting or process from the customer's perspective.
2. "Do what you do so well that they will want to see it again and bring their friends." ~ Walt Disney
We've all heard this before: you never get a second chance to make a first impression.
Disney's cast members are taught to anticipate the needs of the park's guests. If a cast member sees a family confused about where to go first, they'll approach and offer suggestions or directions. Trying to take a picture in front of the castle? They'll likely offer to take it for you.
The most common question received at Disneyland: "What time is the 3pm parade?" What guests are really asking is what time the parade goes by that particular spot. You have to understand the question from the customer's perspective.
3. "Do your best work – then try to trump it." ~ Walt Disney
Set up a structure to meet your customers expectations, and then exceed them by paying close attention to every detail of the delivery of your products and services.
4. "The way to get started is to quit talking and begin doing." ~ Walt Disney
Go out and implement! Start practicing what you've put in place, ask for feedback, measure and then make adjustments.
If you want to learn more about the key processes and best practices that have made Disney a household name around the world, check out the book Be Our Guest.
What's your favorite customer service lesson you've learned from Disney?