What is Inbound Marketing and How Do I Start?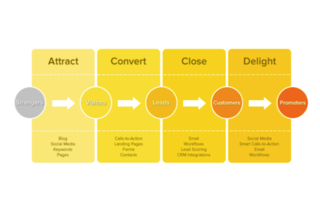 Inbound marketing, a phrase coined by HubSpot's Brian Halligan, is said to be the most effective marketing method for doing business online. How do you define this concept, and what are the steps for doing it effectively?
What is Inbound Marketing?
Inbound marketing focuses on producing interesting and high quality content that pulls people toward your company and product. It is a way to earn attention organically, without interrupting anyone's path.
Think of Inbound Marketing as a channel for dishing out your Brand Appetizer. How can I seep my messaging into digestible pieces, piquing the customer or prospect's interest and making them hungry for more? How can I make it so delicious that they want to share it with their network?
By aligning the content you publish with your customer's interests, you naturally attract inbound traffic to your website and brand that you can then convert, close, and delight over time. Great inbound marketing combines that digestible, bite-sized content with a measurable system to optimize your marketing at every stage of the funnel. 
HubSpot's Methodology around Inbound Marketing is that it is "the best way to turn strangers into customers and promoters of your business." Check out their image that captures the flow of Inbound Marketing:
How do I start?
Ask yourself these two questions: "who is my customer" and "what content can I create that will delight them"?

Follow these steps:

1. Develop a strong marketing strategy
2. Create and maintain a successful website
3. Generate more website traffic by crafting high quality pieces of content:

Blogs
Video
eBooks
White Papers
Webinars
4. Set benchmarks for success and track your metrics
Fun Facts about Inbound Marketing from HubSpot's 2013 State of Inbound Marketing Report: 
 Sixty percent of companies will execute inbound marketing strategies in 2013
Marketers allocate 34% of their overall budgets to inbound tactics – 11% more than they dedicate to outbound strategies, like banners, direct mail, and more
This year, 48% of marketers plan to increase their inbound marketing spending – the third year in a row that inbound budgets are increasing at a near 50% pace
Want to learn more about Inbound Marketing? Don't miss our webinar with HubSpot on Thursday, July 25 "Secrets of Successful Inbound Marketing: How to Prove Your ROI", to discover in depth Inbound Marketing tools and learn what successful Inbound Marketing looks like. Register now!