How Cisco Achieved 281% ROI with Social Listening and Salesforce Radian6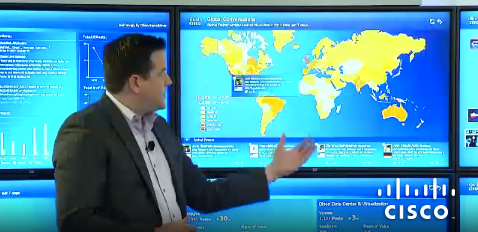 Over half of CEOs expect social channels to be the primary way of engaging customers within the next five years. One company that is leading the way with social listening and engagement is Cisco Systems. The worldwide IT leader -- with more than 65,000 employees in 80 countries – has found a uniform and scalable way of managing its social listening/response program. We featured Cisco before when it launched its state of the art social media command center in October 2012. The company, including its marketing leaders, is eager to share their vision and how other companies can learn from it.
Today, we're also happy to share a new report from Nucleus Research that shows the return on investment Cisco achieved by standardizing its social listening on Salesforce Radian6, the industry leading social listening application within the Salesforce Marketing Cloud.
Understanding the ROI of Social Listening and Engagement
Using Salesforce Radian6, Cisco increased productivity and profits with a consistent and scalable way to manage, understand, and act on social conversations, achieving a 281 percent return on investment in less than one year.
Cisco reduced marketing costs, increased profits and gained a complete view of customers to identify leads, solve service issues, and improve overall engagement with its customers, according to a new ROI case study report published by Nucleus Research.
Cisco's Use of a Hub-and-Spoke Model
Cisco embraces the customer revolution and illustrates how brands can connect with customers, employees and partners in entirely new ways. As Charlie Treadwell, Social and Digital Marketing Manager, Cisco, said in a recent interview with salesforce.com's David Thomas, "The foundation of a strong social media strategy starts with listening. Social listening with Radian6 has allowed us to get closer to our customers and focus on how we monitor, respond, and triage conversations as they happen across our organization."
Cisco uses a "hub-and-spoke" model for its listening and engagement strategy, with five core team members responsible for monitoring on an ongoing basis, ambassadors within each business unit, and a network of subject matter experts that can engage with customers.
Its social media command center tracks ongoing topics, trending, and sentiment, and can also be configured to support short-term listening goals such as a vertical or business unit launching a new product, its sponsorship of the summer Olympics, or its annual trade show, Cisco Live. Cisco's social listening playbook defines triage for different kinds of mentions and the urgency of response needed and routes the mention to the appropriate employee for action.


Today, Cisco's command center manages more than 5,000 mentions a day supporting Cisco's more than 70 Facebook pages and 100 Twitter accounts. Two hundred and forty employees throughout Cisco are using Radian6 mobile applications to engage and triage conversations. Cisco has also invested in kiosks and dashboards outside its main physical social media command center -- in the CEO's and CMO's offices, for example -- so executives and others are aware of social trends and listening strategies on an ongoing basis.
The Benefits
 Salesforce.com is excited to announce that Cisco achieved 281 percent return on investment over four different areas its business:

More focused use of creative services. By standardizing on Radian6 and having one social listening center that triages all of Cisco's social interactions, Cisco can ensure creative agency services are invested in thought leadership and innovation in the social engagement space rather than simply managing tweets.
Increased productivity. Cisco's triage system, named ABCs (action-based conversations) and its ability to leverage a broad field of subject matter experts via Radian6 mobile device access enables its employees to respond to social mentions in a time-appropriate way from anywhere, driving greater overall productivity.
Reduced market research investments. Because Cisco can mine and analyze customer and partner social mentions in a meaningful way, they can have a better overall view of sentiment and behavior that would be cost-prohibitive to achieve through traditional means such as market research surveys.
Increased profits. Insights gained from social listening have resulted in sales opportunities that might otherwise not have been recognized.
Thank you to Cisco for sharing their story with the salesforce.com community. We're also happy to answer your questions in the comments. How is your organization measuring social listening and engagement ROI? Do you deploy a "hub-and-spoke" model or another strategy? Be sure to download the complete Nucleus Research case study at the button below.