Supersizing the App Economy: Salesforce AppExchange Hits 2 Million Installs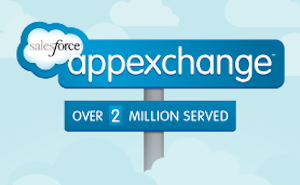 McDonald's rise to becoming an iconic global brand is awe-inspiring. A true testament to the value of scale and speed.  While the McDonald's winning formula can't be replicated, every company craves that level of scale. They're all hungry to serve customers faster, more efficiently and cost-effectively. For salesforce.com customers, that secret sauce has been the Salesforce Platform and the AppExchange marketplace.
The AppExchange is a global operation, delivering outstanding enterprise software to companies all over the world. Anytime, anywhere there's a need for business software, companies trust the AppExchange to serve it up.  
Today, I'm delighted to announce that the AppExchange has surpassed the two million installs milestone. What exactly does that mean?
For the two millionth time, a customer:
Downloaded a business app from our marketplace to serve anywhere from 5 to 5,000 employees across its organization.
Chose to avoid a messy RFP, procurement and installation process in favor of a pre-vetted, pre-integrated solution that just works right away.
Rejected the notion that enterprise software has to be a challenge to adopt.
Can focus on delivering innovation instead of worrying about scale and speed because we take care of it for them.
It is truly another great day for the cloud, and we're lovin' it. When we first dreamt up the idea of a business app marketplace back in 2005, it was years before "there's an app for that" became part of the common vernacular. It took us six years to reach our first one million installs, but only the last two years to double it. Now, getting value out of enterprise technology has become as easy as getting value out of a meal.
We thank our customers. Their vision inspires us, and they feed our relentless focus on delivering the ultimate drive-thru for business success. Not only have they made AppExchange their first stop for addressing business challenges, but their ongoing feedback has also fueled this community to make it stronger every day.
We thank our partners, and celebrate this milestone with them. We merely paved a path for them to continuously innovate by removing the barriers of managing hardware and software. They're the ones who drove through it to build and deliver solutions our customers trust and rely upon every single day.
Together we are creating a new future for the software industry. Together we are all super sizing the app economy. Together we are reaching new levels of scale and speed that will only intensify as we go deeper into the mobile revolution. I look forward to our continued success as we reach for 10 million installs and beyond.
I'm having a burger to celebrate. Join me? Tweet about it with us here at the @appexchange.
If you're ready to build amazing apps, check out our free ebook below.