How to Embrace Open Innovation with Salesforce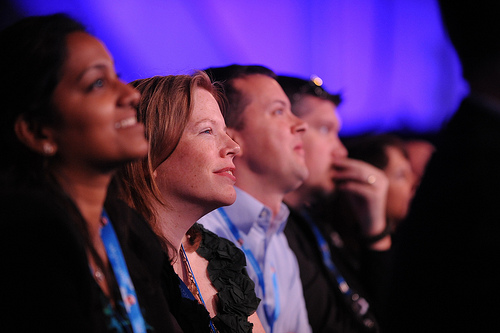 In today's social and digital world employees, customers & partners are more connected than ever & are becoming self-organizing hyper connected knowledge networks. Companies need to tap into these networks & engaging them at scale to drive business transformation & innovation to create innovative products/services quickly. Companies need to become a Customer Innovation Company.
Open Innovation is a program that many salesforce.com customers like GE, Dell, Unilever and Starbucks are utilizing to lead the way and accelerate their innovation and engagement efforts. It brings speed to new ideas, solutions, marketing messaging, and capital, and gets you closer to your employees, partners, vendors, customers, consumers, brand advocates, evangelists, and more.
Today, too often, obstacles such as lack of coordination and integration lead to 96% of innovation initiatives not living up to expectations or business cases.
Leverage salesforce.com to drive innovation and transformation in your organization:
Sales Cloud: Drive community (both dormant and active) innovation via campaign tracking
Service Cloud: Engage with your customers and community to gather insights and ideas and moderate conversations and manage customer lifecycle.
Marketing Cloud: Gather performance and data insights, consumer intelligence and trends in order to market effectively
Salesforce Chatter: Collaborate with customers and employees on ideas and challenges while driving continued feedback to your community


By embracing Open Innovation with Salesforce, you'll have the following outcomes:
Co-creation
New revenue streams
Accelerated time to market
Increased market differentiation
Competitive advantage
Minimized innovation risk
Cost effective R&D
Engaged customers and partners
See the chart below to see the Open Innovation process that leads to these outcomes.
Come join us at Dreamforce'13 and see how customers are leading the way and accelerating their innovation and transformation efforts with Salesforce. We have a great line up of Open Innovation sessions where you'll learn forward-thinking concepts and frameworks, and hear from speakers with first-hand customer success stories .
Open Innovation Kick-off: Drive Innovation, Collaboration & Engagement At Scale
Introducing the Social Supply Chain
From Closed to Open Innovation at GE
Customer Service and The Intersection With Open Innovation
Driving Innovation and Collaboration in the Consumer Products industry
How Social Business Is Reinventing Open Innovation
Open Innovation: Fostering Relationships between Technology Startups and the leading Corporate Brands
Roundtable: Innovation, Turning Ideas into Reality
The ROI of Open Innovation
Leadership Workshop: Open Innovation & Social Supply Chain
Supply Chain Apps That Make You Say "Wow!"
See you at Dreamforce!