4 Reasons Sales and Customer Service Managers Will Love Dreamforce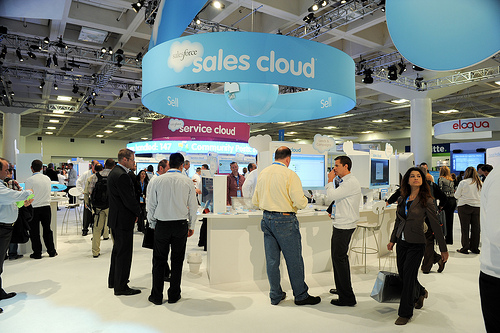 Service Cloud and Sales Cloud are two of the core products at salesforce.com, and they are working together more than ever before. Customers are using both products together to get a better and more 360 view of their customers.
For instance, out of our six customer company showcase companies, five of them use both Service Cloud and Sales Cloud. T
hese companies include: HP, Nissan, Trunk Club, and Blue Shield of California.
Sales Cloud and Service Cloud both have a huge presence on the Dreamforce campus, and have a multitude of offerings for all service and sales professionals coming to San Francisco November 18-21st.  Getting excited?  Here are 4 things for you to look forward to at Dreamforce:
1. Bigger and Better Keynotes
Last year, at the first Dreamforce product keynotes, the Sales Cloud and Service Cloud were two of the most popular.  This year's product keynotes, on Wednesday, November 20th, will be even bigger and better.
Service Cloud and Desk.com SVP and GM, Alex Bard, will lead the Service Cloud Product Keynote from 10:30-11:30am.  Alex, named one of Forbes' "Next Gen Movers," will be joined by customers like Stanley Black and Decker and HP who be telling their service stories.  New product announcements will be made, but you will have to show up to get the scoop!
The Sales Cloud Product Keynote, Wednesday from 9:00-10:00am, will be led by EVP and GM Linda Crawford, and will include customers such as Verizon and Herman Miller.  The keynote will cover product announcements and innovations, but will also focus on sales trends like inside sales.  You can't miss this keynote if you want all the latest and greatest on where the Sales Cloud is going.
2. Sessions You Can't Miss
There is a huge breadth of sales and service-dedicated sessions, with sessions for specific industries, experience levels, and company sizes within each track.  With over 1,245 total sessions, there will be more Sales Cloud and Service Cloud sessions than ever before.
The Sales Cloud has 83 total dedicated sessions.  On Tuesday and Wednesday the Sales Cloud has
ten top sessions focused on product leadership, best practices, and salesforce.com leadership panels.  Another set of sessions are part of the CEB Sales Summit, and will include thought leadership, and give sales attendees the opportunity to challenge one another.  With the recent acquisition of Pardot into the salesforce.com family, there will be 10 Sales Cloud sessions focused on this powerful B2B marketing automation tool, including a Pardot introduction, road maps, and focus on total integration into Salesforce.

There are a total of 75 sessions dedicated to the Service Cloud.  A major focus across the board is the speed of connection.  Customers demand to be serviced immediately, and many sessions will enable you to have faster customer service across all channels.  Thought leaders including Kate Legget from Forrester, and Esteban Kolsky will be included in sessions, as well as top customers such as Deloitte, UnitedHealth, KLM Royal Dutch Airlines, Lenovo, and more.  Along with these sessions there will still be true to the core sessions, roadmap sessions, product and mobile sessions.
3. Real-Time Campground Involvement
The product campground is your one-stop shop for deep dives on all of salesforce.com's products.  And as always, the Sales Cloud and Service Clouds will be front and center, with plenty of opportunities to learn.
The Customer Engagement Center is where we provide real-time support for all of our Dreamforce attendees, so it's a real working customer support center on top of a great way to learn about how the Service Cloud works.  When the Dreamforce mobile app goes live in late October you will also be able to use the Service Cloud mobile knowledge product live in the app.  In addition to the Customer Engagement Center, the Service Cloud will have many demo stations in the Product Campground.
The Sales Cloud will be integrating with data.com, work.com, and Pardot on the campground floor.  Pardot was once a sponsor in the expo, and this will be the first opportunity for you to see the product as part of the salesforce.com family.  These products will be shown as one solution, along side a mobile wall with a variety of devices showing the sales product, customer stories, images, and messages.
4. Engaging with Customers like never before
This year at Dreamforce, our teams will be interacting with their customers like never before.  The Sales Cloud and Service Cloud are ahead of the game.
Brand new for Dreamforce '13 are the Sales Surfboard Awards.  There are 18 different awards that the Sales Cloud will be giving customers, from Enterprise all the way down to the SMB level. Wednesday night there will be fireside chats highlighting the winners as well as panels with the 3 big winners. Attend these sessions for inspiration and insight into how these customers have succeeded.
The Service Cloud will be initiating random acts of kindness at Dreamforce.  While we cannot give any details, as the surprise is part of the program, keep an eye open for special points of kindness, and engage with @ServiceCloud on Twitter.
Did you miss "All About the Sales and Service Clouds at Dreamforce" on Salesforce Live: The Road to Dreamforce yesterday?  Learn more about what service and sales professionals will experience at Dreamforce here:
To see the complete schedule and register for the event go to www.dreamforce.com or click the button below.