8 Ways to Have Fun at the Dreamforce Success Community Zone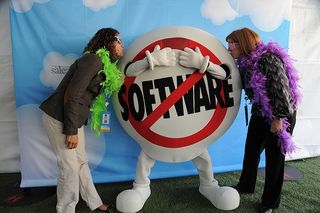 To learn Salesforce best practices, get your product questions answered, connect with customers face-to-face, and have a lot of fun doing it all, visit the Success Community Zone (#SCZ) at Dreamforce.
The Success Community Zone is your one-stop shop for networking, sharing ideas, and learning at the Hilton Grand Ballroom in downtown San Francisco.  The Zone includes the very popular Hands-On training sessions as well as a majority of the Administrator Track sessions.  It's going to be hopping with experts sharing their knowledge.  Here's a rundown of the Success Community Zone (#SCZ):
1. Genius Bar
Bring your burning questions and just try to stump our Salesforce MVPs,who are staffing this one-of-a-kind genius bar.  Get your list of questions completely checked off, have a fun while doing it, and leave feeling like you're ready to be the Salesforce hero back at your company.
2. Community Live (sponsored by ReadyTalk)
Come see, in person, the
 podcast personalities you've grown to love online - Mike Gerholdt & Jared Miller from ButtonClickAdmin fame.  And Justin Edelstein & Jason Atwood from CloudFocus Weekly. Both will be broadcasting live from our podcast station in the SCZ and have a series of special guests and topics lined up that don't want to miss. 
3. Community Theater (sponsored by Conga)
Want more hands-on, interactive sessions on a variety of hard-hitting topics?  Pull up a stool at the Success Community Theater and take copious notes as Salesforce MVPs, User Group Leaders and Product Managers lead these short, but action-packed sessions.
4. Customer Journey Wall
Experience a Dreamforce 1st with our interactive Customer Journey Wall!  Tell us "what matters most" during your salesforce.com journey, and watch as an illustrator brings the story to life right in front of your eyes. This is a can't miss opportunity!#df13wall


5. Advocacy Demo Station
Ever wonder how someone becomes a Salesforce MVP or if there's a local group of customers in your area?  Stop by the Salesforce Advocacy Program Demo station to hear all about these amazing programs.  
6. Community Lounges & Espresso Cart
If you've been to Dreamforce before, you know you caffeine and granola bars are critical to k
eep you powered up for the jam packed 4 days.   You also know that your feet need a rest after trekking all around the campus.  Take a load off, recharge, and refuel at one of our two community lounges.  We have FREE specialty coffee drinks all week to keep you wide-eyed and bushy-tailed.  We also have 4 charging stations to keep your phone alive and kicking too.
7. Giant Community Games
Challenge one of your new Dreamforce cronies to a game of corn hole or giant checkers.  It's a perfect way to blow off some steam and give your brain a break!  

8. Free Head Shots
Spruce up your Success Community, Twitter, Facebook or LinkedIn profile by getting your picture taken by professional photographer, Lindsey Freitas from BellaLu Photography.  She has the magic touch making everyone look amazing.  1:00pm - 3:00pm, Monday - Wednesday



There's something for EVERYONE at the Success Community Zone (#SCZ).  I can't wait to see you there - and may even challenge you to a game of corn hole myself.
Not yet Registered for Dreamforce? Sign up at the button below.